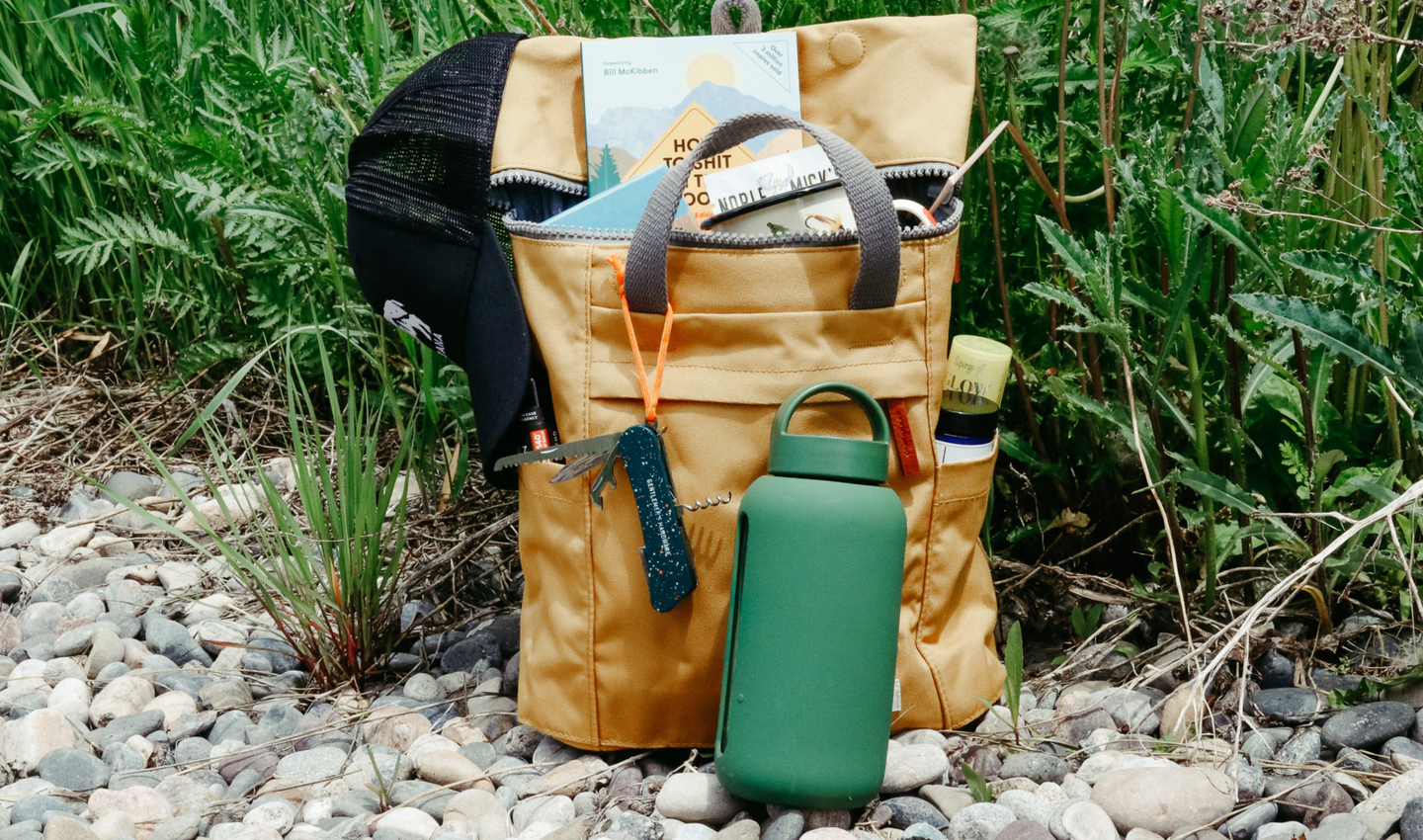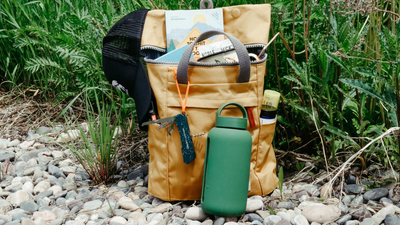 Hiking with Heyday
What's in Our Daypack
Fill your hiking pack with some of our favorite essentials
It's spring in Montana! With trails starting to dry up after the long winter and plenty of daylight hours to soak up adventures, we are so excited to get outside and enjoy all that Montana has to offer. The Heyday team is particularly fond of hiking, and you're always bound to find members of the team enjoying the numerous trails around Bozeman. Curious what we bring along in our daypack? Check out our faves to take along in your bag on your next adventure.
Let's Pack Your Bag!
First, grab your bag and let's get packing! We love the Finchley Backpack from ORI London. It features a cool minimalist design, with a roll-top and large front zipper pocket. It's also weather resistant, has extra storage space, and loads of pockets, making this bag the perfect day hiking bag.
Next, hydration - it's always important, but even more so during a hike. Make sure you're carrying water with you, and carrying it in a cute and functional vessel is a plus! We're big fans of the Bink Day Bottle - the outer silicone layer keeps your bottle safe, both in your pack and on whatever surface you set your bottle on mid-adventure. The Mini Bottle is great for shorter excursions, small enough to chuck in any size bag and great for little one's hands as they accompany you.
We also like bringing a hat on our hikes - it combines some sun protection and a whole lot of style. This Montana Buffalo Hat is a Heyday staple design. The moon, stars, and mountains give a delicate edge to the powerful buffalo imagery, and the sturdy embroidery ensures you'll be loving this hat across many adventures. 
On-The-Go Skin Care
Let's start with SPF with our Glow Stick sunscreen from Supergoop! Easy to apply, no matter where you are, sans-mess and uber-hydrating. Now, give your lips the same treatment with the Cannon Balm 140° Lip Protectant. With SPF 30 and natural oils to moisturize your lips in even the harshest conditions, this lip balm is a must-have for hiking. The formulation even withstands temperatures approaching 140 degrees Fahrenheit, so it won't melt on you even in the summer heat.
On days when the winds have picked up, we love reaching for the Glo Face Balm. Formulated with raw shea butter, medicinal grade essential oils and blue algae along with white tea extract, this balm acts as a protective, calming barrier for dry, sensitive skin - say goodbye to chapped skin after a long hike! Glo Luxury Oils, founded by local Megan Ulrichs, is committed to creating 100% natural and organic products to nourish, protect, and regenerate your skin without compromising on health, safety, quality or sustainability. 
Tools and Guides for the Trail
Carrying a multi-tool with you is never a bad idea, and this 9-in-1 Wilderness Multi-Tool has you covered no matter the situation. The tool includes a knife blade, a saw, a tin/bottle opener, a corkscrew, a flat-head screwdriver, a Phillips screwdriver and a removable flint rod - all in a durable, compact, stainless steel handle making it a breeze to throw in your pack.
If nature is your muse, and creativity strikes while hiking, this waterproof sketchbook from Huckleberry is your new best friend. Made from waterproof stone paper, this pad stands up to the elements and works with pencils, pens, and markers - so there really is no excuse to get sketching!
And if nature calls in the middle of your hike (you know we've all been there!) make sure you've got the definitive guide to eco-friendly outdoor defecation. How to Sh*t in the Woods, by Kathleen Meyer, offers a delightfully shameless discussion of a once-secretive activity - providing timely techniques for keeping trails, bushes, and wild waters clean and protected when indoor plumbing is not an option. 
Celebrate at the Top!
Finally, whether you enjoy a summit reward or a treat back at the trailhead, a convenient cocktail is never unwelcome. Noble Mick's single cocktail mixes are a perfect way to create a delicious drink quickly and conveniently. Just mix the packet contents with spirit of choice and some sparkling water and pour over ice, and voila! A single serve cocktail just for you!
Having durable drinkware is essential for any adventure refreshments, and this enamel mug is up for the challenge. Constructed of cold rolled lightweight steel and coated with rugged, durable enamel, this mug features a classic fishing flies print and is easy to clean - great for lasting a day on the trails and easy to take home and wash.