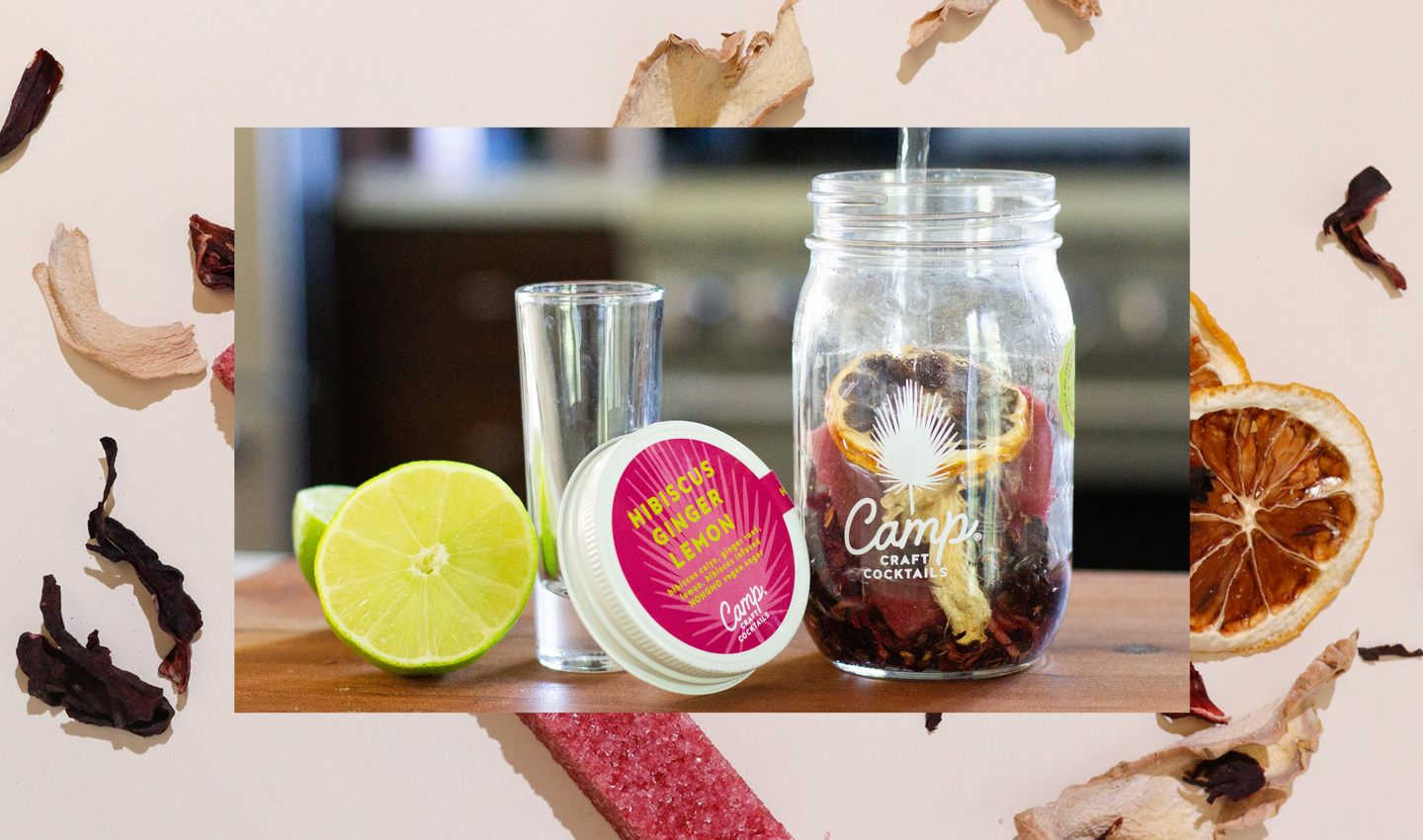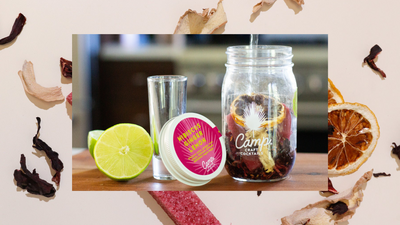 CHEERS!
Summer Entertaining with Barware Favorites
For beginner bartenders and expert drinkmasters
Summer is here and outdoor entertaining is in full swing. Cocktails in the backyard, sipping wine on the deck, enjoying your favorite zero-proof recipe in the sun - what more could you ask for? We've rounded up some of our favorites for bringing the bar outside, leaving you with delicious drinks to share with your favorite people. Whether you're a beginner bartender or an expert drinkmaster, we've got you covered with all the tools, flavors, and recipes - so get out there and enjoy!
Make it Simple with Cocktail Mixes
We've been loving cocktail kits and mixes as a fun way to try new recipes and explore new flavors. Camp Craft Cocktails started with owners Suzanah Raffield and Rhonda Stringfellow selling popsicles on their cross country road trip. Wanting to pivot towards a shippable product, the cocktail kit in a jar was born. With experience as camp directors guiding their community-driven mission, Camp Craft aims to build longer tables where everyone is welcome and everyone belongs: their cocktails are built with flavors that beg to be shared and a soul for creating community.
Each jar is filled with dehydrated fruit, herbs, and non-GMO vegan sugar, with no preservatives and no artificial colors or flavors. Easy to use and transport, you'll enjoy the perfect cocktail every time! While each jar serves 8, we love that each jar can be infused twice, leaving you with 16 total servings.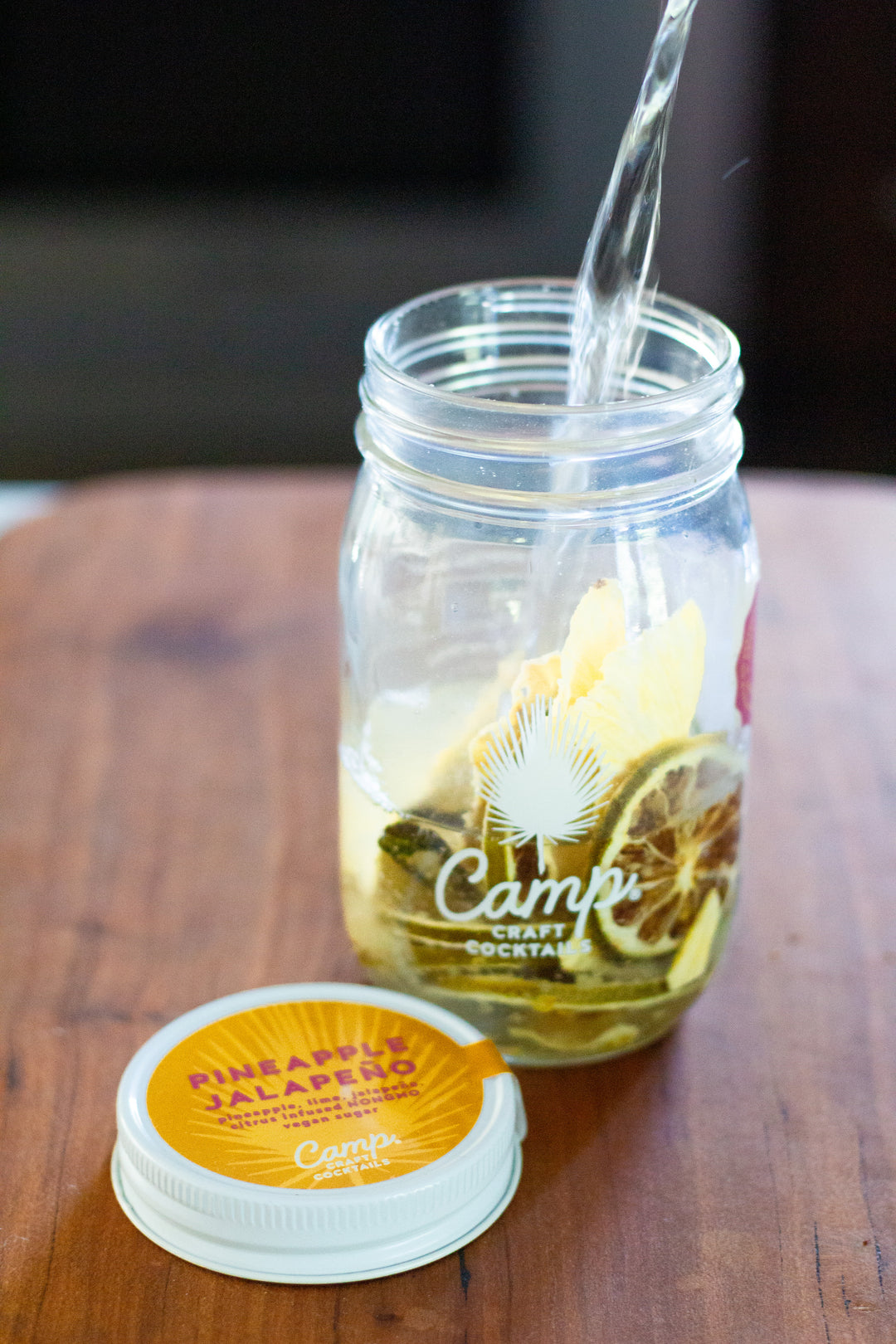 Easy as 1-2-3
Simply add 12 oz. of your favorite liquor or zero-proof of your choice.
Let it Infuse
Stir together for 15 seconds and refrigerate for up to three days.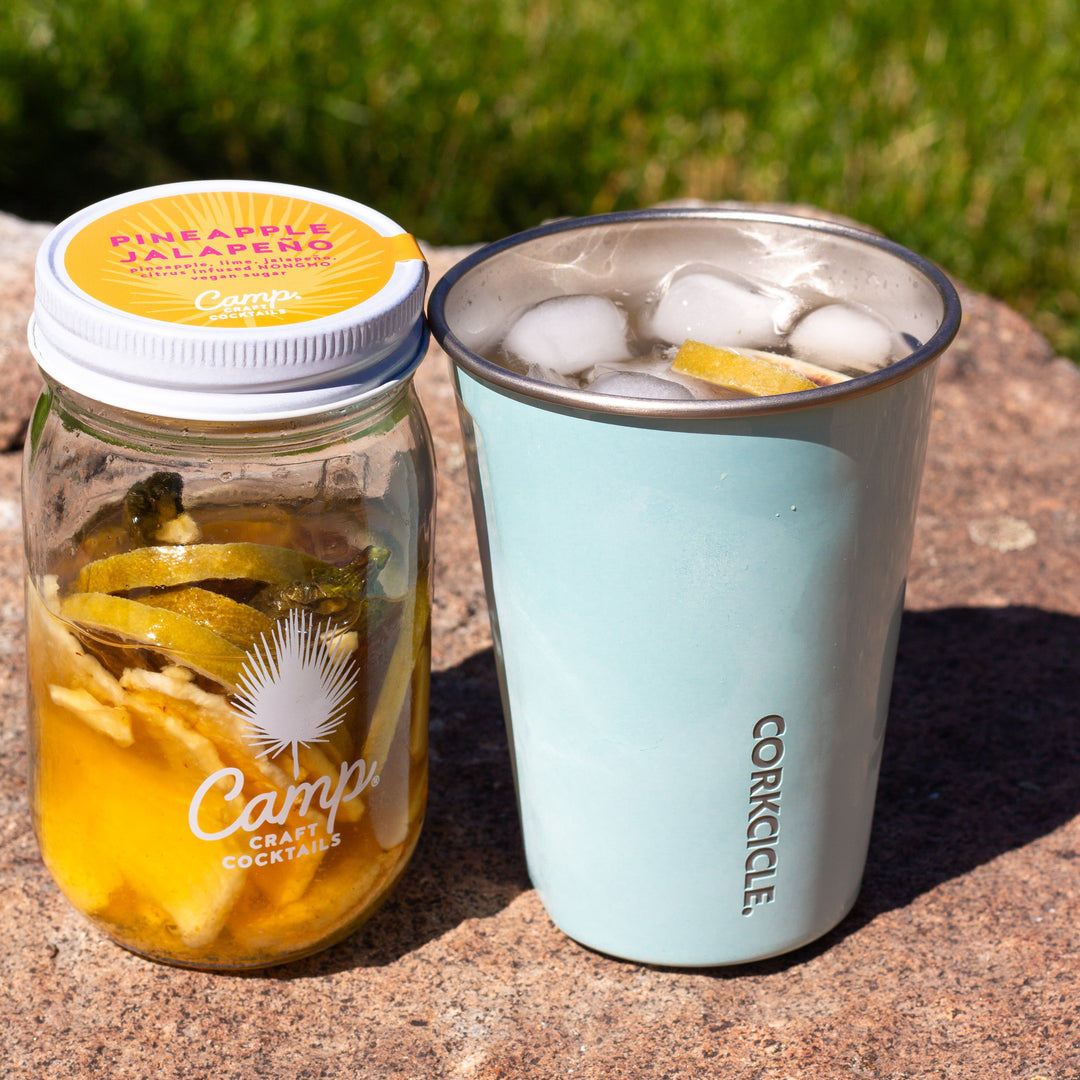 Enjoy!
Pour the infused mix over ice, add your favorite garnish and serve.
One of our top choices for summer has to be the Pineapple Jalapeño cocktail kit: with pineapple, lime, jalapeño, and citrus infused cane sugar, this kit is a little spicy and oh-so tropical - aka your next beach vacation in a glass! This kit pairs great with your favorite tequila or mezcal, but would do well with any spirit of choice (hello spicy vodka martini!).
Infusion is easy, fill the jar with your liquor of choice and let refrigerate for three days to infuse. Once ready to serve, strain a 1.5 ounce shot over ice and top with pineapple juice and lime! If zero proof is the choice for you, simply infuse with hot water, shake the jar, and allow to cool - strain a serving over ice and top with juice and garnish.
Find more favorite recipes for hot or cold Camp Craft zero proof or boozy cocktails.
a heyday favorite
Hibiscus, Ginger + Lemon
A floral favorite, the Hibiscus Ginger Lemon cocktail kit is tart, bright, and has a kick of ginger spice. This kit pairs with any liquor, but goes very well with bourbon or tequila. Same infusion directions apply, but we like this served over ice and topped with ginger beer. A squeeze of lime is always a great touch. We love that these kits are a breeze to prepare and are super giftable. Great for parties, share your favorite flavors with friends! 
Single Serve Cocktails
If single servings are more your speed, Noble Mick's single cocktail mix packets are the perfect choice for you. Nothing brings people together more than a party - and for Noble Mick's, it's all about the party - bringing loved ones and new friends together. They've created something that makes that easier, without needing to lug around heavy liquid mixers or having a million ingredients around the house. 
With a variety of fun flavors in the convenience of a single serve packet, Noble Mick's makes crafting your next cocktail a breeze. Mixing instructions as easy as pour, stir, enjoy - what's not to love? Each cocktail calls for a different ratio of water to spirit but always just one packet - it's really as simple as that! Add your own touches such as a rim or garnish to add even more flair to your drink. Our favorite flavors are the Margarita (we add a salt rim and lime wedge) and the Moscow Mule (we like mixing this in a copper mug and adding lime).
Noble Mick's, based in Maryland, is on a mission to make starting a party anywhere a snap: in fact, the Noble Mick's team has successfully mixed a cocktail just about anywhere you can imagine. Whether that be on a plane, in a hotel, camping, hiking, or even in the parking lot at a kids trampoline park birthday party (we don't judge!) - your next drink is but a pour and mix away. 
Serve It Up with a Smile
So you've got your drinks - now you need some barware to serve them in. We've got your bases covered with fun and functional glassware, so you can sip in style. We've been loving these printed rocks glasses from Meriwether. Based in Whitefish, Montana, Meriwether is an expert in whimsy and sarcasm and these glasses are no exception. Perfect for the whiskey lover in your life or for your next cocktail, the witty sayings will keep you entertained night after night. For those who just appreciate a good drink, the Good Sh*t glass shares its message simply and clearly, so everyone knows what you've got in your cup.
Perhaps you've got that music lover who just can't get their lyrics right: meet the 'You're as Smooth as  T*tties and Whiskey glass (wait - are we sure those aren't the actual Chris Stapleton lyrics?).
A fast team favorite, these Stacker Cups from Corkcicle are stainless, stylish, and sustainable. Bye bye plastic single use cups - your party just got a whole lot cooler. With an easy grip body and non-slip silicone bottom, these cups keep your drink cold and are dishwasher safe so clean up is a breeze.
How about coasters that will protect your furniture and look good doing it? We've got that too! Commemorate your favorite place with these classic bar coasters. Printed with water resistant ink, these Bozeman, MT coasters are made from 100% biodegradable pulp board and are durable enough to withstand wear and tear. They also come in a set of 10 - perfect for your next get together. 
Be Your Own Mixologist
If you are in need of some inspiration for your next round of drinks, The Essential Cocktail Deck is a compact and comprehensive repertoire of essential recipes. From perfected classics, like the Whiskey Sour or Mint Julep, to new and exciting cocktails such as the Angostura Colada or Kentucky Buck, The Essential Cocktail Deck has a drink for everyone. With easy step-by-step instructions for each recipe, you'll be mastering new drinks in no time. The deck features 50 laminated cards, so no worries about spills - wipe them clean and you're ready for the next round!
The Curious Bartender, from cocktail mastermind Tristan Stephenson, explores the art of preparing the perfect cocktail - from the ingredients they include to the delicate alchemy of their interactions. Mixing drinks is an art - Stephenson will take you through the origins of your favorites, modern takes on classics, and offers a reference section detailing all the techniques and equipment you need. An exciting anthology for the cocktail enthusiast, The Curious Bartender will have you preparing the perfect cocktail like a seasoned drinkmaster. 
No matter the occasion, sharing drinks with loved ones is always a special treat. Enjoying those drinks in the beautiful outdoors is just the cherry on top. Heyday's Barware collection has you covered from recipes, to glassware, to flavors, and more, making your next gathering a breeze. 
Featured Barware Collection
Written by Heyday team writer, Porter Margolis
Noble Mick's Margarita Mix photo, courtesy of Noble Mick's