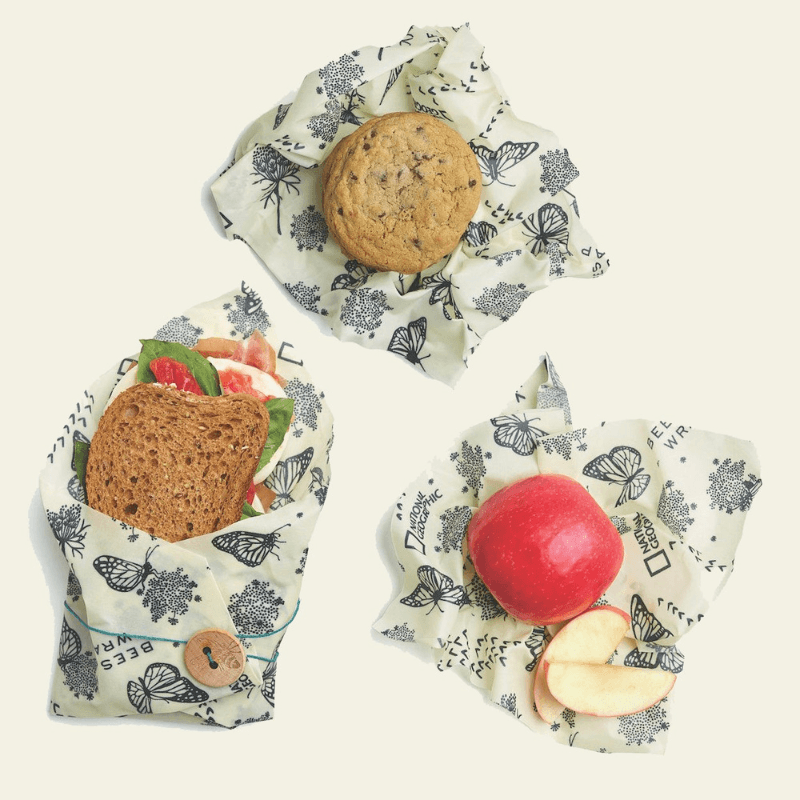 Go Green! Top Picks for Earth Day
April 22nd is Earth Day 2023 - while there is no one way to show your love for Earth, we've rounded up our favorite products to share with you! From sustainable kitchenware to upcycled materials, and guides for your next outdoor adventure, we hope you get some inspiration on how to celebrate this incredible planet we call home.
FOR THE KITCHEN
The kitchen is a great space to start making headway in reducing waste and adopting eco-conscious practices. Here at Heyday, we're big fans of zero-waste reusable packaging that make saving leftovers convenient (and cute!).

Food Huggers are reusable silicone food savers that create an airtight seal around fruits, veggies, and even open cans and jars. When you press your food in the Food Hugger, an airtight seal is created, meaning your food will stay fresher for longer. The BPA-free food-grade silicone is easy to clean and comes in fun colorways to give your kitchen a splash of color.

Another staff favorite, great for packing lunches and snacks on the go, are Bee's Wraps. These beeswax wraps are completely reusable, washable, and compostable, making them a practical alternative to plastic wraps and bags.

Finally, we have the classic Swedish Dishcloth. These dishcloths absorb 15 times their weight for easy and effortless cleaning. They are also lint free, machine washable and dishwasher safe. Coming in tons of cute patterns and prints, these dishcloths make sustainable practices more attainable and oh so fun.
FOR THE BOOKSHELF
In Unforgettable Journeys, from DK Eyewitness, over 200 hikes, drives, cycling trails, train routes and boat trips are brought to life with inspiring narrative, splendid photography and illustrative maps. Highlighting sustainable and slow travel options throughout, this book will inspire you to lace up your boots and get exploring.

Find a delightfully shameless discussion of a once-secretive activity that examines the environmental impact of too much crap (organic and otherwise) on our ever-shrinking wild outdoors: Kathleen Meyer's How to Sh*t in the Woods provides timely techniques for keeping trails, bushes, and wild waters clean and protected when indoor plumbing is not an option.With the rising popularity of hiking and off-the-grid backpacking as well as the current climate crisis, Meyer shares proper procedures in a way that is approachable and comprehensible for all audiences, from beginner to expert.
FOR HER
Our top-selling Commonform quill earrings are created responsibly, using quills collected or humanely harvested from African porcupines. Did you know that porcupines shed and regrow quills similarly to how we shed and regrow hair? Commonform receives the quills in their natural form. They are sorted, cleaned, sanded, paired, cut, glued into the bullets, and given a quality check. The bullet casings are collected from local ranges that would otherwise be left on the grounds or in the landfill. They are cleaned, pickled, tumbled, and punched for the earrings. Quite the process, but the result is a unique pair of earrings lending a beautiful statement to any look.

ORI bags take sustainability seriously, from the materials they are made from all the way to the actual manufacturing process. PET is a material widely used in plastic bottles and other food packaging. ORI uses recycled PET in their bags - this gives a new life to a material that's not biodegradable, diverting it from otherwise ending up in a landfill or the ocean. ORI's new manufacturing method uses 85% less energy, 80% less water, and 65% fewer emissions than traditional methods. These bags look as good as you'll feel sporting one, knowing you've picked a sustainable and stylish accessory.
FOR LITTLES
Morepeas have created safe, durable, sustainable, and stylish do-it-all tableware and accessories for baby and toddlers. Founded by two moms, Morepeas' designs are inspired by real life. Made with BPA-free silicone, Morepeas tableware uses a mix-and-match system designed for stacking, storing & transporting - extremely versatile and functional, reducing your need for single-use containers and clutter. Endlessly reusable & built to last (silicone won't wear, fade or corrode).

Help your little one celebrate outdoor adventure and the history, diversity, and stewardship of public lands with a dynamic and fun illustrated book for children of all ages. National Parks A to Z by Gus D'Angelo captures the emotion and spirit of our national parks, using a layered approach that will appeal to young readers of any age. Informative sidebars explore deeper topics inspired by interviews with National Park Service rangers, Tribal Nation members, accessibility activists, field scientists, and visitors.
FOR HIM
From Duke Cannon, the Shampoo Puck is a super-concentrated, premium formulated, solid bar of shampoo. They're built to outlast multiple bottles of the liquid stuff without leaving any plastic residue behind.

Dr. Squatch soaps use sustainably-sourced ingredients you and the planet can feel good about, and they strive to be as transparent as possible with all of their products and ingredients. Avoiding chemicals in your bodycare means avoiding the harm these chemicals continue to do even after you're done using them – they run down your sink or shower and eventually end up in rivers, streams and fields, causing environmental harm as well. Dr. Squatch products are 98-100% natural in origin, meaning they don't cut corners and our ingredients come from nature and are naturally-derived.
Written by Heyday team writer, Porter Margolis