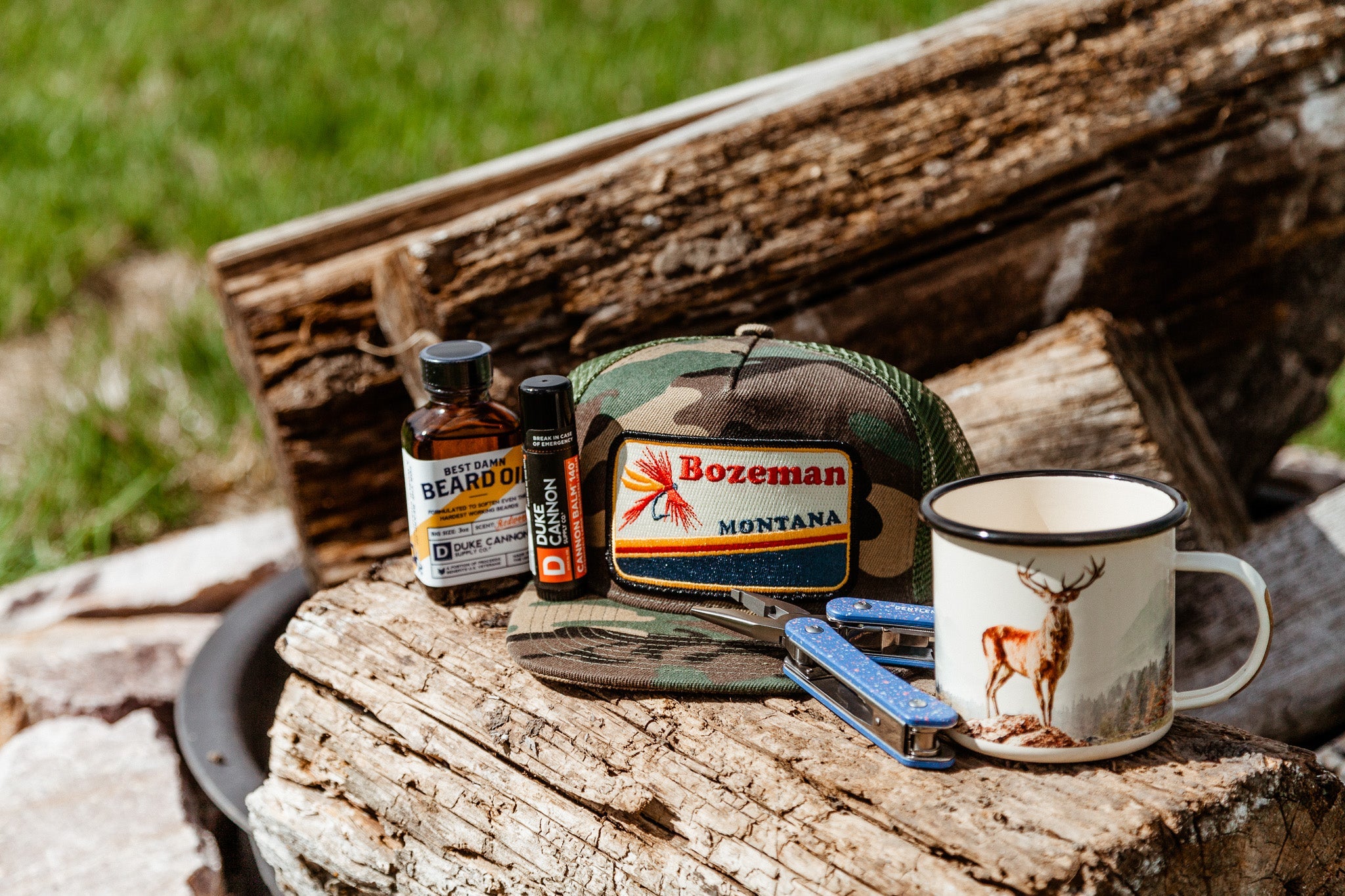 Celebrating the Dads in Your Life
Father's Day is June 18th! Celebrate the dads in your life with our favorite gifts for him. Whether you need to adorn him in accessories that show off his style, give the gift of body care, some books to inspire his next adventure, or supplies for the bartender at heart, check out our roundup to create the perfect gift for dad. 
Unique Accessories for Him
We love socks here at Heyday! If you've visited us in store, you've seen our socks walls and displays, with enough options to ensure everyone's feet are happy. Well not to worry, the Heyday sock mania is online too! Celebrate dad with a pair of socks that encapsulates his essence. Maybe he's an outdoorsman? We've got Grizzly Bear socks and Buffalo socks. Is he an avid fisherman? Check out the Gone Fishing socks or the Fishing Lure socks. From Hot Sox, these socks feel sensational and look incredible. With designs that speak volumes, let the socks show his true colors.
Perhaps dad is more into witty sayings on his funky socks. Blue Q has been making high quality socks for 26 years, and their hilarious sayings delight everyone. Validate the cool dad's feelings with the Here Comes Cool Dad socks - let him know his cool dad jokes, cool dad high fives, and cool dad lifestyle never go unappreciated. Is dad always open about his habits? The Love Me a Good Poop socks takes his honesty and openness right onto his feet. Is dad reaaallllyyy into beer? The Big Brewski Boy socks make sure everyone around him knows it too.
Maybe dad is a hat guy - not to worry, Northwest Vibes Supply Co. has got you covered with go-to hats that blend comfort, functionality, and support for the places he loves. The Olive Montana Snapback features a modern patch with a solid back panel construction, making this the perfect hat for dad to show off his love for adventure with a stylish flair. The Black Montana Trucker hat is adorned with tasteful leather patch, resulting in a handsome take on a classic silhouette. 
Give the Gift of Body Care
Self-care is for everyone, and dad deserves a little pampering on his special day. Made in the USA, Duke Cannon was founded with a simple purpose: to make superior-quality grooming goods that meet the high standards of hard-working men. Meet the Cold Shower Ice-Cold Body scrub, a product for folks who want to take a hot shower without losing their cool. A combination of aloe vera, menthol, and glycerin will leave him feeling cooled, hydrated, and refreshed. Dad will feel extra-squeaky clean thanks to minerals to gently deep clean and exfoliate. The Natural Charcoal Deodorant has a unique masculine scent, with notes of bergamot, fresh air, and a woodsy base, and harnesses the power of charcoal to keep him odor-free for those hard workdays. Alcohol and aluminum free, the deodorant is naturally derived and will ensure no one smells how hard dad has worked.
If dad has a beard, give him a powerhouse combination of beard care products that will leave his mane moisturized, tamed, and smelling fantastic. Start with the Best Damn Beard Wash, featuring hops extract, soybean, and barley and wheat protein. This wash is made with plant based ingredients that tames beards and moisturizes the skin beneath it, without stripping his beard of its natural oils. Let him follow up the wash with the Best Damn Beard Oil. With the scent of cedar, this oil combines argan and jojoba oils and is rich in vitamin E and antioxidants. Formulated to soften even the hardest beards, he'll go from unkempt to 'kempt' in no time. Help dad manicure his beard with the Best Damn Beard Balm, made with lanolin and cocoa butter which help moisturize and protect his beard and the skin below. With a pleasant woodsy fragrance, the balm comes in a convenient travel tin so he can take his balm on all his adventures. 
Gifts for Outdoorsy Dads
Gentlemen's Hardware crafts superior, durable and responsibly sourced goods for life's adventures - the perfect gifts to show dad just how much you love him. For his next camping trip, the Wilderness Multi-Tool is an essential kit for explorers, wanderers and lovers of the great outdoors. The tool includes a knife blade, a saw, a tin/bottle opener, a corkscrew, a flat-head screwdriver, a Phillips screwdriver and a removable flint rod - the stainless steel tools are held within the compact handle for extra practicality.
For nights around the fire, the Campfire Games Set features three games for all-weather fun for any camping trip, fishing excursion, outdoor adventure. Stowed in a compact, transportable tin with full instructions for three games, the set includes a deck of waterproof playing cards, six dice, a score pad, and a pencil.
If dad needs a game to entertain at home, instill some nostalgia with the Ring Swing Game. Let dad show off his skill with this simple, fast-paced game - perfect for livening up his game nights and parties.
For dad's morning coffee, give him a rugged, durable, easy-to-clean enamel mug. These trusty mugs, available in both a deer and fish print, will get him through the day, from his morning brew to his campfire night cap. 
For the Bartender at Heart
For the bartender dad, we've got the perfect gifts to complete his bar set. Corkcicle makes every sip an experience with sustainability and style. Their variety of drinkware products take you from coffee in the morning, to cocktails in the evening, to full coolers for all your weekend activities. The Whiskey Wedge is a new artful way to perfectly chill his favorite spirits. During freezing, the ice forms a wedge shape on one side of the glass. When you pour a drink, the wedge melts slowly to help retain your drink's full flavor.
Another favorite of ours from Corkcicle, is the Stacker Cup, a stainless, stylish, and sustainable replacement for the everyday plastic, single-use party cup. With an easy-grip and non-slip silicone bottom, this dishwasher safe cup makes dreaded clean up a breeze - dad's tailgate just got a whole lot cooler.
For the whiskey enthusiast, we've got Whiskey Chillers to chill his drink without dilution. Practical and stylish, the phrase 'on the rocks' is brought to life with this set of six stones made from granite and soapstone. Simply pop in the freezer before use, and dad can use these as he would ice cubes.
For a complete drinkware set, the Whiskey Tumbler & Stones set has you covered with the perfect gift for the home bartender. The tumblers are the perfect size for sipping, and the spherical granite rocks let him savor the taste and complexity until the last drop.
Show off his hometown pride with fun printed Rocks Glasses, letting dad sip his favorite drinks in an elevated vessel. 
Books to Inspire Him
Feed dad's sense of adventure with these books that are bound to inspire him in the kitchen, in the outdoors, and beyond. Wild Meat by Ross O'Meara is a complete guide to cooking game. This cookbook is ideal for hunters who care as much about what happens in the kitchen as they do in the field, and cooks who want to know more about where their food has come from.
From Summer Markus, The Great Outdoors: 120 Recipes for Adventure Cooking explains how to cook on an open fire and presents the best outdoor cooking equipment and the most delicious recipes for every meal of the day. When adventure calls, hunger is never far away, and this cookbook with a twist is an essential for your next road trip or camping vacation.
If dad is an angler, give him The History of Fly-Fishing in Fifty Flies, from Ian Whitelaw: this book recounts the history of the sport that dates back 2,000 years, focusing on milestone flies from the first feathered hook to contemporary patterns using cutting-edge materials. Filled with profiles of the key characters involved, tying tips, photographs and illustrations of the flies, and detailed explanations of the techniques used to fish them, this book is a fascinating companion to the evolution of the sport.
By Kath Sanders, The Bucket List: 1,000 Adventures Big & Small is an invaluable guide to fun, fantastic, and life-affirming activities featuring an eclectic range of ideas such as self-improvement, sports-related endeavors, natural wonders, cultural experiences, culinary delights, and more. Give dad the ultimate guide to discovering new, stimulating activities, from classic outdoor pursuits to popular goals for people of all ages.