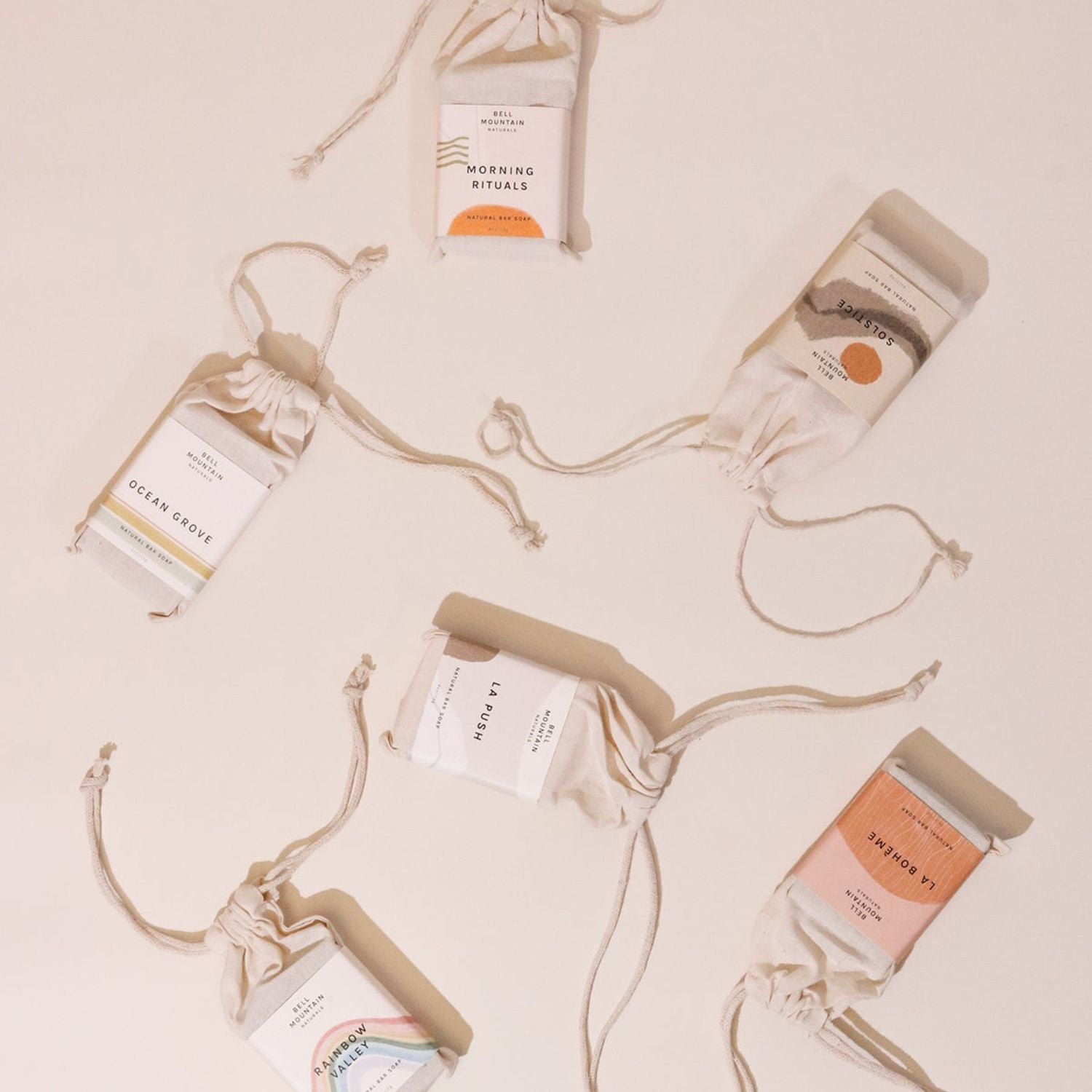 Top 6 Picks for a Next Level Beauty and Wellness Routine
Beauty and wellness plays a big role in our everyday lives - these routines are never one size fits all, but we all benefit from a little TLC to show our bodies some love. We rounded up our favorite brands and products with input from coworkers and customers alike. Have finicky skin? You'll love that our favorite creams and soaps are safe for even the most sensitive skin. Feeling a little burnt out in your daily routine? Check out what wellness patches our customers are loving to get a little boost in all areas of their busy lives. Need your vanity to look as good as the products make you feel? We agree - our fave picks are products you'll be reaching for time and time again but never hiding in a drawer. From fragrance to lip balm, show off your products in packaging everyone will covet. Head to toe, we've got you covered with our tried and true picks to complete your beauty and wellness routine and leave you feeling your best.
BEST IN BODY
With clean skincare becoming all the rage, let's hear it for this line of products that focuses on kind ingredients being kind to your skin, kind to animals, and kind to the planet. Beekman 1802 brings the 'farm to' movement straight to your skincare routine: they've unlocked the science behind goat milk, a centuries-old natural remedy for sensitive skin. What started with a herd of 100 goats and a community of neighbors has transformed into the world's biggest goat-milk skincare company. Sourcing goat milk from 25 privately US family farms owned by multiple generations of farmers, Beekman 1802 skincare is clinically tested and scientifically proven to be effective for sensitive skin, while providing a free Neighbor Recycling Program allowing your empties to be upcycled into new products.  

What we're loving:With notes of grapefruit and guava, this hand cream will leave your hands feeling soft and supple without any greasy residue. A luxurious feel and enlivening scent, this hand cream won't irritate sensitive skin and softens even the harshest of dry palms. 
BEST IN WEARABLE WELLNESS
Wellness you can wear? Doesn't get easier than that! The Good Patch puts plant-powered wellness right at our fingertips, creating wearable patches that aim to empower us in all aspects of our lives, at home and on the go. The Good Patch started during a coffee chat between lifelong friends Betsy Scanlan, Kelly Brock, and David Nicholson. Sharing experience in the beauty and wellness industry, the three kept returning to the concept that when the people around you feel good, life is more beautiful. Together they wished to create something that would change the game - so they began The Good Patch. Championing the power of plant based ingredients, these patches are designed to make each day just a little bit easier, with sustained ingredient release, convenience for the on-the-go lifestyle, and complete control for the user - on when you need it, and off when you don't. The Good Patch's goal is to bring ease and convenience to your wellness journey, whether you need to find your calm, boost your focus, or get some beauty sleep. Each pack contains 4 patches in resealable packaging. Wear one patch for up to 12 hours.

What we're obsessed with: B12 Awake Patch:With caffeine, green tea, and vitamin B12, these patches are great for your early mornings and your afternoon slumps. Have a long day of travel ahead of you? Your Awake patch will carry you through. Our customers love the boost they get to forge ahead in their morning route - hello productivity!

Dream Patch:A blend of melatonin, hops, and valerian root, these patches are a powerhouse combination of ingredients for your ultimate night of shuteye. Trouble falling asleep? Staying asleep? Let the Dream patch lull you to bed and wake up rested, refreshed, and ready for anything.

Our Tip:To have even more control over your patch dosage, you can cut your patches in half or quarters! Resealable packaging makes storage easy. 
BEST IN LIP SERVICE
We here in Montana are all too familiar with the dreaded chapped lip, and finding the perfect lip balm is something we like to pride ourselves on. A balm that is the perfect pairing of moisture and flavor? Yes please! Meet the lip balms of our dreams: moisturizing, incredible smelling, and in packaging we all want to show off to our friends.

Poppy & Pout all-natural lip balms are made by hand with love in small batches (check out their pouring & packing process here!). All natural ingredients, cardboard tubes you can recycle, and no animal testing, Poppy & Pout products look great on your vanity, feel great on your lips, and do good for the planet. Hydrated lips should be simple: a combination of ethically sourced beeswax, sunflower oil, organic coconut oil result in some of the prettiest, softest, and most yummy-scented lip products we've ever used!

What we're loving: Pomegranate Peach Lip Balm A combo that just makes sense, this balm is a little bit sweet and a whole lot of fruity! The balm is smooth, the scent smells great, and the packaging is oh-so cute. An instant favorite, this balm is sure to keep your lips moisturized and have you reaching in your bag time after time.

Sweet Mint Lip Scrub: A Heyday team favorite, this exfoliating lip scrub will prepare your pout for the smoothest lip balm application, with no harsh ingredients. With sugar and essential oils, this gentle exfoliator cleans and removes dead skin, leaving the softest and smoothest lips. You'll love the invigorating feel of the mint followed by just the right level of sweet.

Our Tip: Rub the lip scrub between your fingertips to warm the product before applying to your lips for a smoother application!
THE WINNING FRAGRANCE
Hoping to turn heads with your perfume as you walk by? You're bound to find your perfect match in a Lollia scent. Lollia is proud to have spent over 20 years lovingly developing their products, creating each to capture the imagination and provide a delightful escape from the everyday. Lollia's products range from body butters to parfums, and each element has been carefully composed: down to the most intricate details of the packaging to their luxurious formulations and exquisite fragrances. Made in the USA.

What we're loving: Always in Rose Eau de Parfum is a captivating and sophisticated fragrance, Always in Rose is a floral scent that layers enchanting rose and tranquil hibiscus notes. A base note of woodsy honey sets the perfect stage for sweet floral and delicate citrus top notes. A parfum that looks as beautiful as it smells, the vintage-inspired bottle - complete with gold touches and gorgeous blooms - will be the perfect addition to display on your vanity. A wistful and feminine scent, this parfum will be cherished with every spritz.
Worried about picking a fragrance online? We know how daunting that experience can be. When selecting a fragrance, be sure to pay attention to the category of scent (floral, sweet, etc…) and the top, middle, and base notes - how do these compare to other parfums you've loved? Think of the transition from top to base notes as a journey throughout the day - top notes shine after first application, middle notes shine thereafter, and the base notes will linger with you throughout the day. For a guide to selecting a fragrance online, check out this great article from Harpers Bazaar.
The Soap of Choice
Let's be honest - soap can make or break a shower experience. Texture, scent, lathering, and even how your soap looks in your shower are all important qualities we take into consideration when picking the star of our cleansing routine. Perfect doesn't have to mean complex: great soap comes in a clean, conscious package. Bell Mountain prides themselves on keeping it simple, natural, ethical, and transparently honest. Using only high quality, natural ingredients and conscious packing that is recyclable, reusable, or compostable, Bell Mountain hopes to pass on a sense of thoughtfulness and care into everything they make. Inspired by places they've traveled or lived, Bell Mountains hopes to share the inspiration and emotional connection behind their products with their customers. Sourcing ethically and sustainably harvested raw ingredients, Bell Mountain products are always palm free and never tested on animals - as well as no fillers, parabens, phthalates, petrochemicals, dyes, or artificial ingredients.

What we're loving: Ocean Grove Bar Soap- Open up your drawstring pouch to your own slice of Ocean Grove art - the lovely blue bar immediately grounds with you with its earthy aroma. Let your shower transport you to a coastal bluff on a sunny day: the lather will calm your soul and open your senses. The aroma adventure continues with notes of jasmine sambac and lemon. This soap is sweet, floral, and bright with citrus. The soothing formula results in a rich lather that gently cleanses and leaves skin moisturized. We love that our skin isn't left feeling sticky after using this bar - even those of us with sensitive skin found that Ocean Grove cleansed, soothed and left us smelling fresh. Let your shower routine become a luxurious, aromatic experience that leaves you feeling clean and bright.
Best in Men's Grooming
Gone are the days of men's grooming being limited to unscented bar soap and canned shave cream. Treat your gentleman like a king with a luxurious skincare regimen featuring the magic of Mistral. Crafting quality soap and beauty products since 1994, Mistral celebrates the body while nourishing skin with exquisite fragrances and superior formulations. Using the lush landscapes of Provence as their laboratory, these products are developed with the input of french soap and perfume makers. Made in France, based in San Diego, California.

What we're loving: Bourbon Vanilla Shave Cream - This shave cream is an ultra-rich and concentrated cream that allows for a smooth, close shave. Nutrient dense layers provide a protective barrier between skin and blade, reducing razor burn, irritation and nicks. Easily lathering, with a rich masculine scent, this pH balanced foaming shave cream will prep and lift up even the most stubborn of whiskers.

Bourbon Vanilla Post Shave Balm - Non-greasy and soothing, this post shave balm is a treat for freshly shaved skin. Lightly scented and formulated with organic plant extracts and jojoba oil, this balm will reduce redness and encourage healing of minor nicks and irritations.

Our Tip: The post-shave balm can double as a face moisturizer as well, without clogging your pores!
Written by Heyday team writer, Porter Margolis