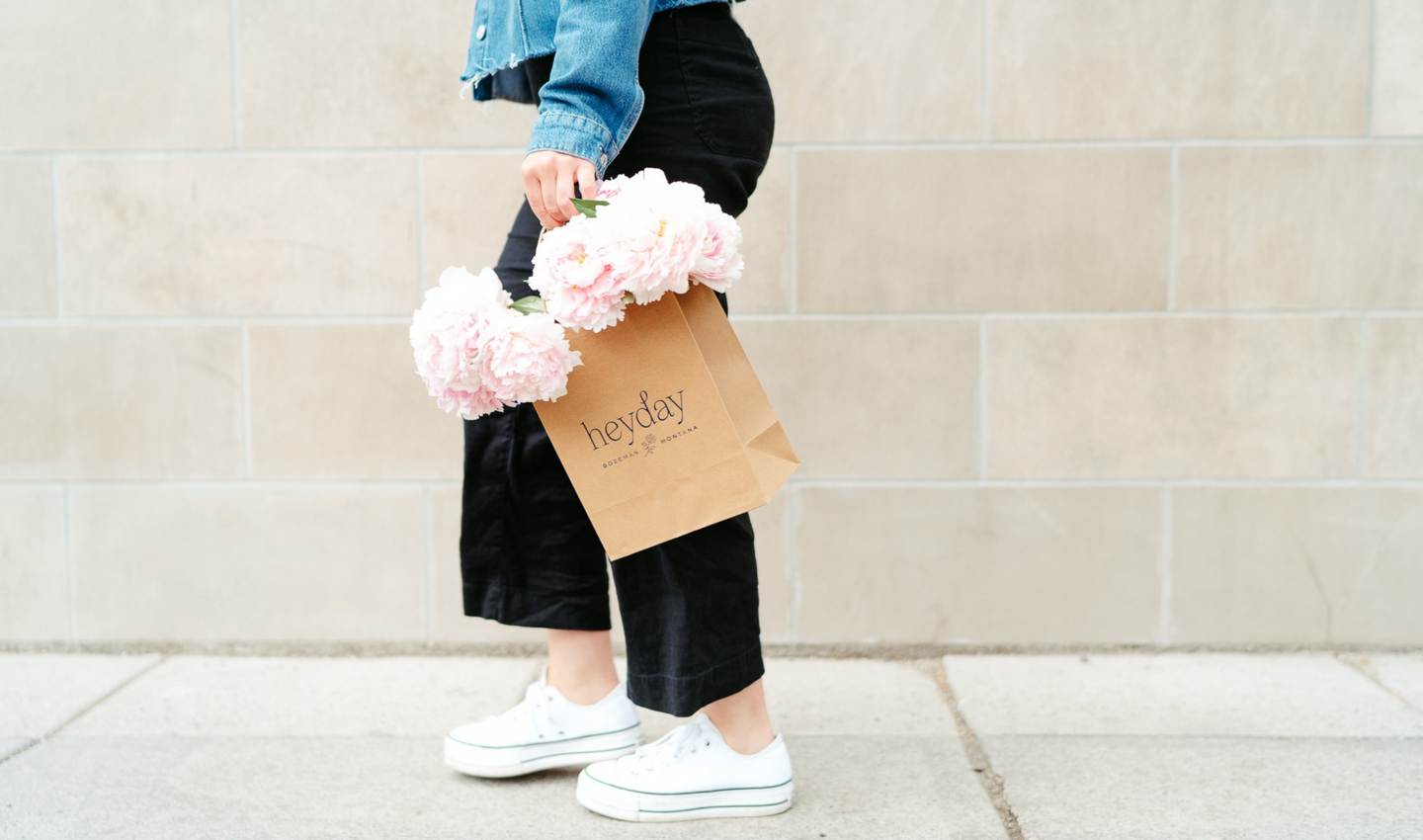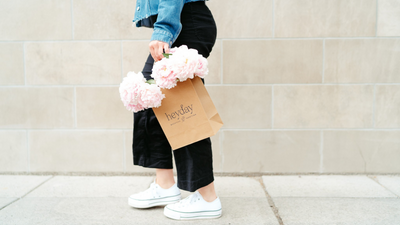 The Same heyday with
A New Look!
An insight into our rebranding process.
You may have noticed things are looking a little different around here. We are so excited to share our new, fresh rebrand with you. Don't worry, we're still the same Heyday you know and love!
We sat down with Heyday owner and buyer, Mallory, to learn more about the inspiration behind the Heyday rebrand and the process of creating the new look. 
The Inspiration
The process of a rebrand is much like taking a long, deep look in the mirror. We had to ask ourselves what words described our business, our customers, and our creative vision. Things like, "what would a day in the life at Heyday feel like? or who is our customer, what are they like?" explains Mallory. We created a list of key words we wanted to make sure our new brand exemplified. Words lighthearted, joyful, clean, bright, feminine and timeless. These are all elements we know represent Heyday and our customer base.
"This idea of professionalism and timelessness, balanced with the elements of whimsy, surprise and delight - all that comes with the experience of shopping and gifting with us," Mallory adds.
The biggest thing Mallory wants to emphasize is that this rebrand is not a big transition or departure from what Heyday has always been. "We're still the same Heyday we all know and have loved for 15 years, and we hope to maintain that sense of community in our new branding."
It's not to say things have not changed since Heyday opened in 2007 - we've grown, and our downtown community has also grown. As chains and big box stores become more common downtown, we want to make sure our rebrand doesn't take away from the fact that we are still the same locally owned small business who is so proud to have served Bozeman since 2007.
"The changes in our branding honor the changes we're seeing around us," describes Mallory, "the updates you see are fun and fresh, but still ensure that the legacy of Heyday is effectively represented."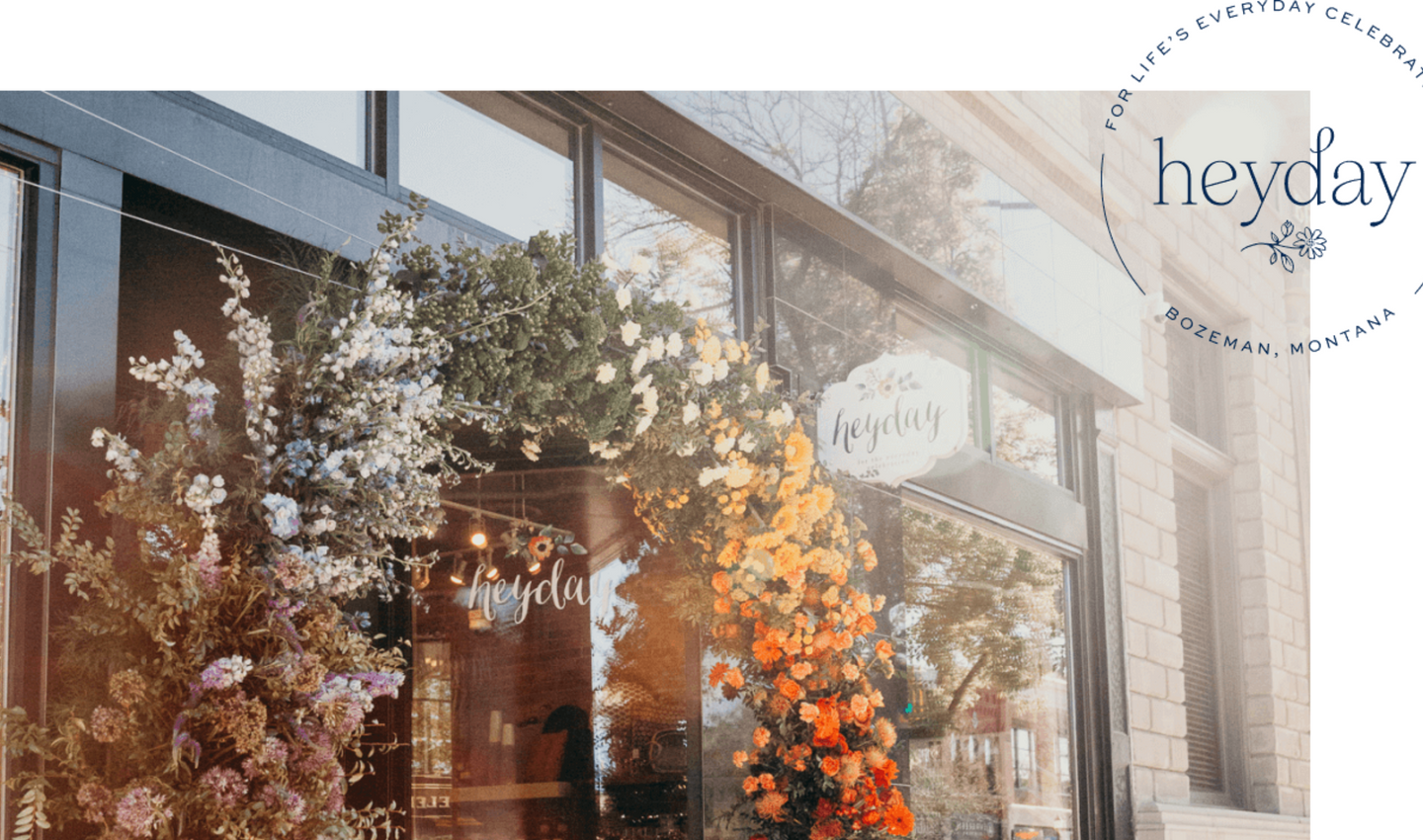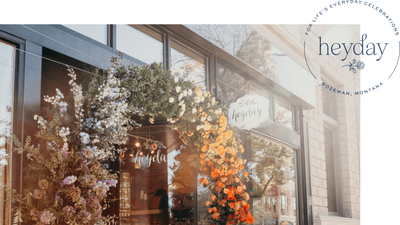 Timeless with delight
Our New Look
The logo's primary color is navy, paired with white for a crisp, classic aesthetic. You'll see touches of evergreen, sherbet pink, peony pink and sunflower yellow for pops of color or seasonality.
The flower is a nod to our previous logo, a hallmark for Heyday, but with a modern take on the bitterroot flower - Montana's state flower and a callback to the beautiful state we call home.
Heyday is proud to be a destination for moments of inspiration, tranquility, and escape. This rebrand was carefully designed to mirror the exact sense of femininity, joy and delight our customers feel when they step into our store.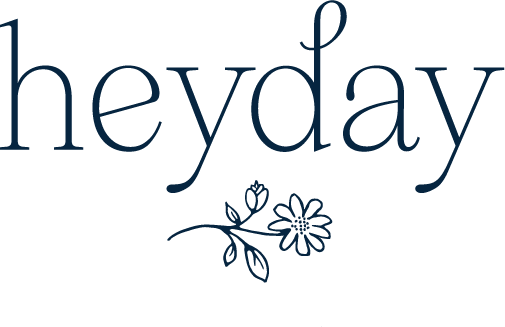 Our Design Process
The first question we asked when contemplating a rebrand - why now?
"It probably would've made sense for a rebrand to happen when I bought the business" says Mallory, "but it felt unnecessary at the time. Having been through a lot of changes, through a pandemic, through growth, now finally felt like the right time, once other transitions had settled. I feel like having gone through these changes, I knew exactly what I wanted this rebrand to be." 
The process looked like extensive questionnaires, getting into the nitty-gritty of exactly how we want to be seen. Mallory was encouraged by how naturally these answers came to her and the team: "I wanted to make sure we were very clear, precise, and intentional with how we wanted to portray Heyday, but it felt great to not feel like we were wavering on anything." Iteration after iteration of branding followed, with the Heyday team's precise feedback lending to how our new brand identity took shape. 
The design process wasn't too arduous: "As a more than 15 year-old store, we know who our customer is and what we want to portray, we knew exactly what we liked and didn't like," explained Mallory. This isn't to say it was a piece of cake - discovering just how far reaching a brand identity is was enlightening to Mallory: "It was crazy to discover just how many places the new brand had to touch!" But through the process, there were plenty of rewards as well.
We are all so grateful to have such a supportive and synchronous team here at Heyday, who work tirelessly on the sales floor and behind the scenes to create the environment we all get to enjoy everyday. "This process was such a collaborative effort and as a natural collaborator personally, it was interesting seeing myself go through the process as both a collaborator and leader - it was also incredible to see how we were all so on the same page, all respecting how much our brand identity is a part of this business." Mallory shares, "I am so grateful to Lisa Rickenbaugh, Heyday's founder and original owner, for trusting me in taking over the business, and after all of this I feel even more an integral part of the business. " Lisa founded Heyday in 2007 in the same location at 7 W. Main Street and then expanded the store in 2017 to the footprint it is today. Lisa brought a fresh, more modern approach to the Montana home and the store evolved to be a cornerstone retailer in the valley. She hired Mallory in 2017 as the Store Manager and then sold the business in February 2019.
Look how far we've come...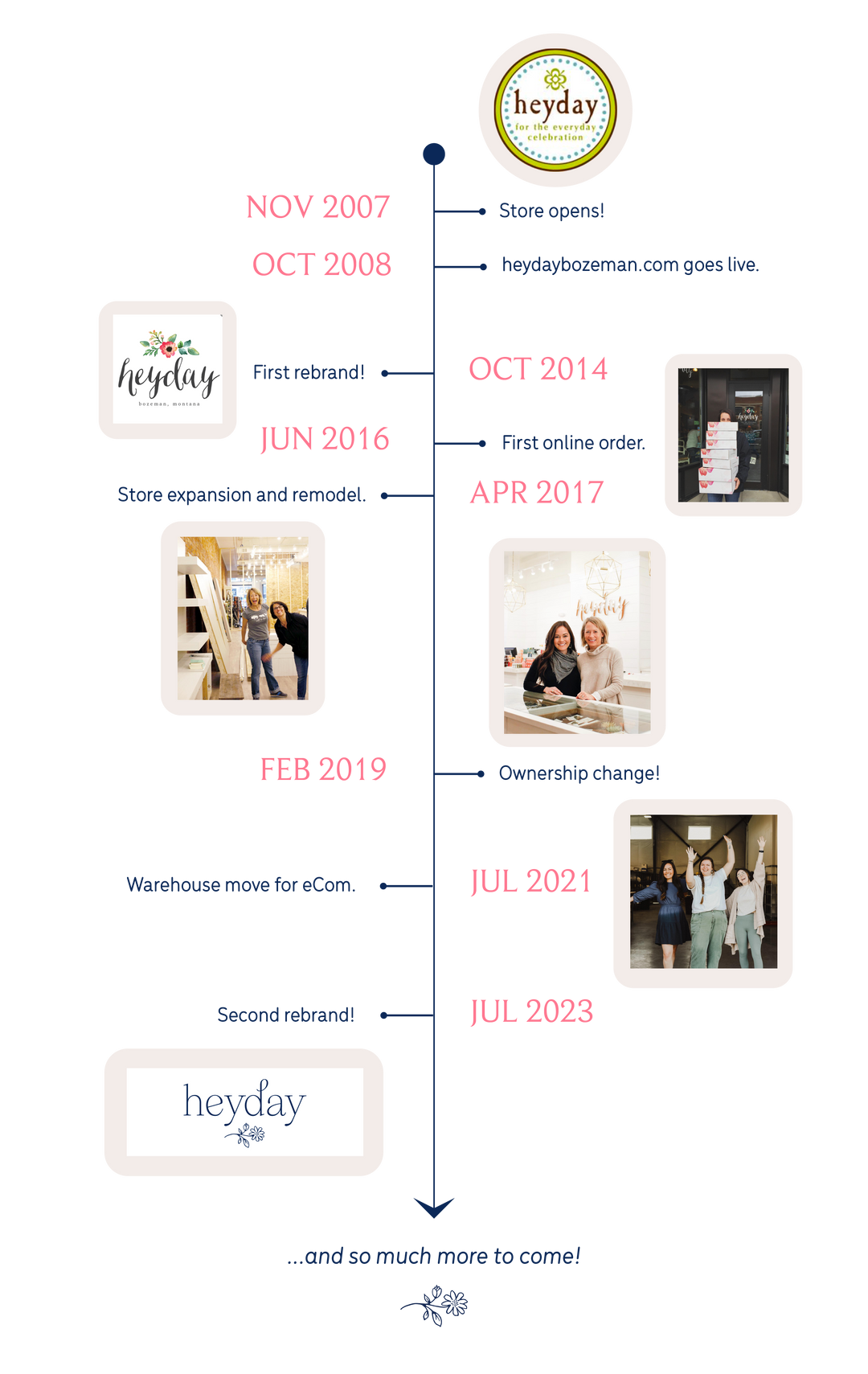 For Life's Everyday Celebration
Admittedly, sharing this new look with all of you brings butterflies to our stomachs, but we know you'll adore it as much as we do. And what is Mallory's wish for our customers and this rebrand? "I hope it resonates with them, that we still feel like an old friend. It's no different than getting a new haircut or new shoes - it's a new and fresh look, but still home." This rebrand is what makes Heyday tangible for our customers.
One of Mallory's personal favorites are the new gift boxes for jewelry. "Heyday is known for our gift wrapping, and these new boxes tap into every piece we were trying to achieve. The simple branded box is elegant and professional, while also timeless and special - it exemplifies what a gift from Heyday is." These new elements you'll see, both in store, whether it be signage or wrapping, or as you browse our online store, tap into what we pride ourselves on: our store is a place for community, for imagination, and for inspiration. We love being people's "happy place", an escape from the day's chaos, and an invitation to celebrate all the little moments in life.
We hope you share our excitement in sharing this new look with all of you: we are so proud to be a part of this community and feel lucky to share everyday celebrations with all of you.
Written by Heyday team writer, Porter Margolis