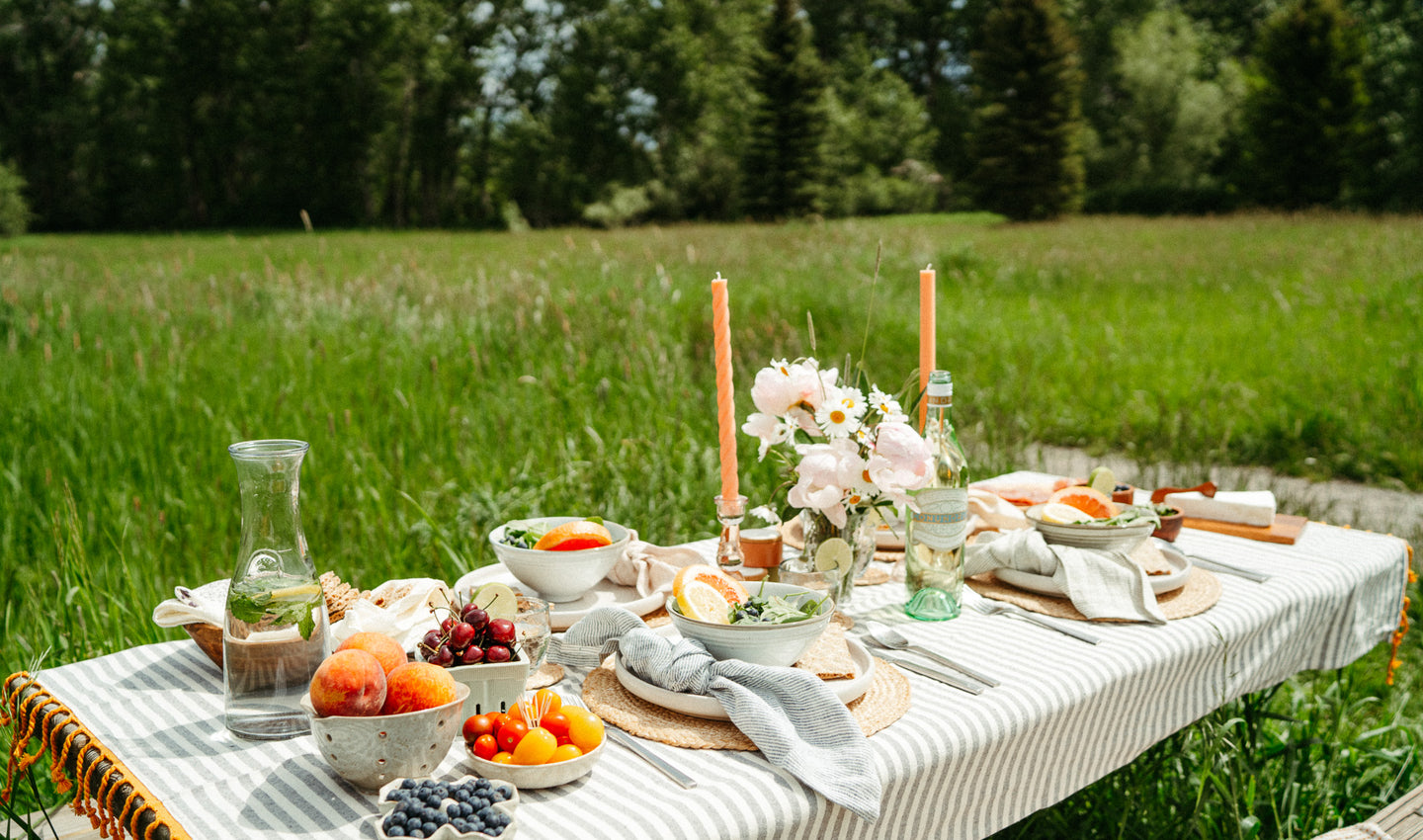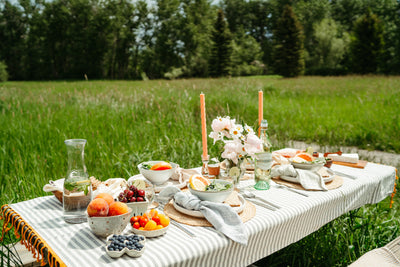 Life Al Fresco
Outdoor Dining with Heyday
Our Inspiration
Al Fresco: Inspired Ideas for Outdoor Living by Julie Pointer Adams is an ode to living and gathering in nature. Getting together in nature, with food and drink, is among the most restorative rituals we can experience, fostering a kind of intimacy and ease that's rare in any other setting. Al Fresco, with its fresh, delicious recipes and unexpected ideas, its tips for exploring new ways to get outdoors, and its interviews with dozens of kindred spirits, is an inspiring and beautiful playbook for anyone who wants to spend more time outside with friends and family. The credo is simple: nature opens us up to ourselves, and the food we share opens us up to each other.
Al Fresco serves as more than just a recipe book to add to your collection: complete with a wide range of lived experiences, cooking tips, inspiring interviews, and more. Beautiful imagery and accessible prompts create a visual and literary invitation to step outside and partake in the company of nature, food, and friends as a healing antidote for anything that ails you. 
The Tradition of Outdoor Dinning
Al fresco is to eat in the open air: gathering with friends and loved ones, enjoying delicious foods and creating enduring memories. Outdoor dining has a rich history spanning back to the Middle Ages and hunting feasts, to Victorian era garden picnics, and to modern-day outdoor meals: whether it be rooftop dining, gatherings with friends in the backyard, or any gathering spot with the unique ambiance fresh air creates. Living al fresco is not about creating over-the-top glamorous tablescapes or over-styled occasions, but partaking in shared experiences with friends, enjoying all that the outdoors can offer, and creating a rich sense of community. All you really need to create your own al fresco experience is good friends, food, and the great outdoors. Let nature refresh your spirit and let food and friends help you free yourself from the humdrum cycles of our daily lives.
Inspired by the stunning imagery from the Al Fresco book and tales of nature as a healing measure, we at Heyday took to the outdoors and created our own al fresco gathering. With beautiful Montana springtime as our setting, we created a beautifully layered picnic in a gorgeous green meadow for the picnic dreams are made of. With our favorite kitchen and dining products as the base for this amazing feast, this al fresco meal was the base for great friends, yummy food, and contagious laughter that left us feeling full of life, love, and inspiration.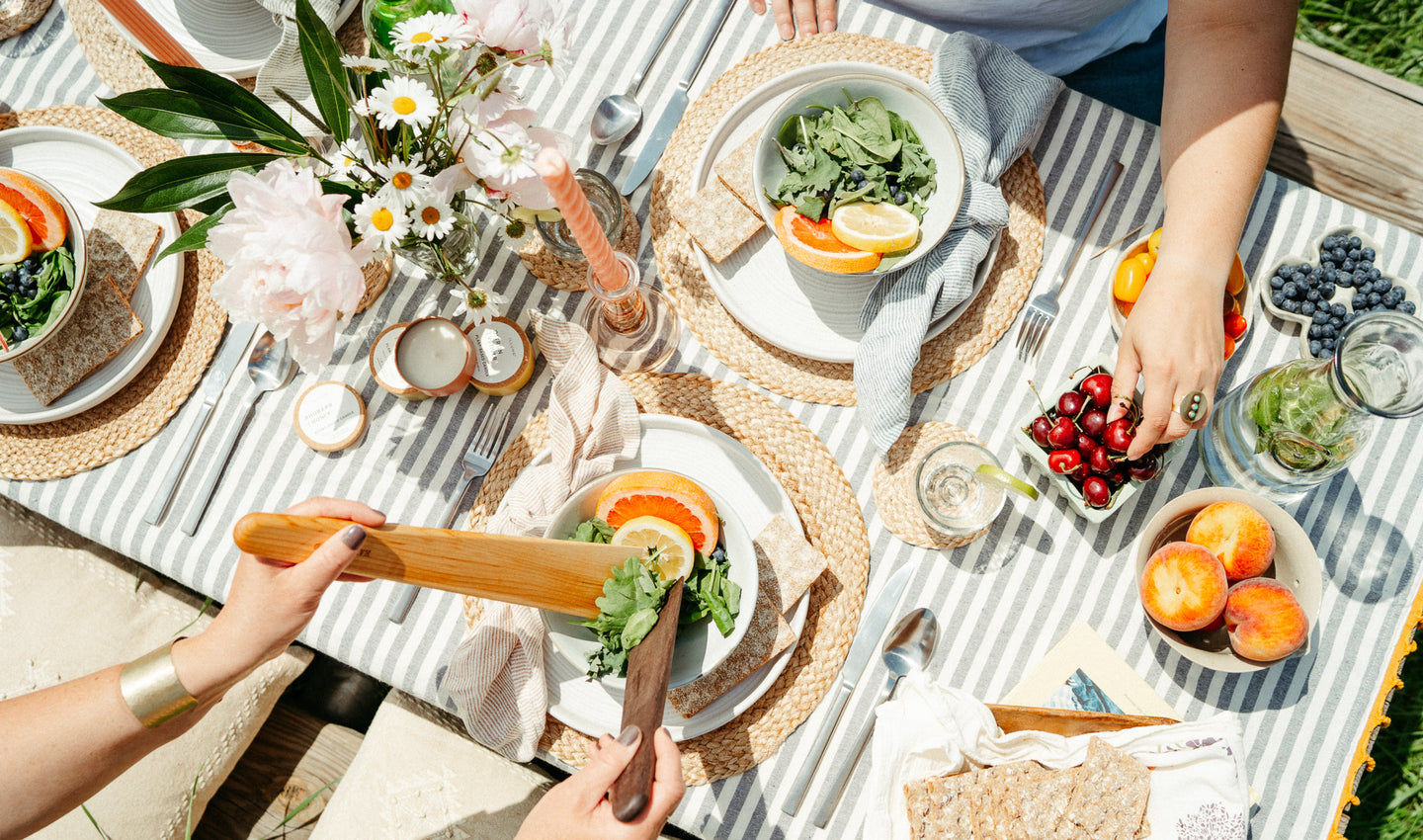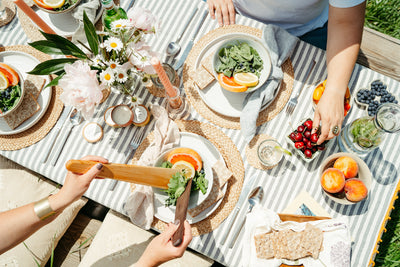 Create a Unique Tablescape
Every gorgeous table setting starts with lovely linens and place settings. We love these Makuri Woven Seagrass placemats and coasters as a beautiful and sustainable way to dress up your table. Handwoven by artisans in Bangladesh, the seagrass and rattan construction gives your table a beautiful, organic look and protects your furniture from spills and scratches.
Napkins are a great way to add color to your table setting, and these Woven Linen Napkins are the perfect combination of soft and subtle, and the linen makes them easy to clean. To keep the feel of our tablescape organic, natural, and welcoming, we opted for stoneware and wood serveware. These White Stoneware Bowls are sturdy, beautiful, and perfectly sized for salads, fruit, and more while adding an attractive and understated touch to your table's decor. For small bites, we always reach for this Toothpick Dish. Made from durable stoneware with a reactive glaze, this functional dish makes serving hors d'oeuvres a breeze.
Style Tip
Mix Linens
Using cloth linens will give your table an instant chic look. Use all your favorite linens - mix, match and layer to create a unique outdoor tablescape. We topped our outdoor table with a striped beach towel, lined our bread bowl with a dishtowel and tied our favorite linen napkins with a knot for an elegant finish.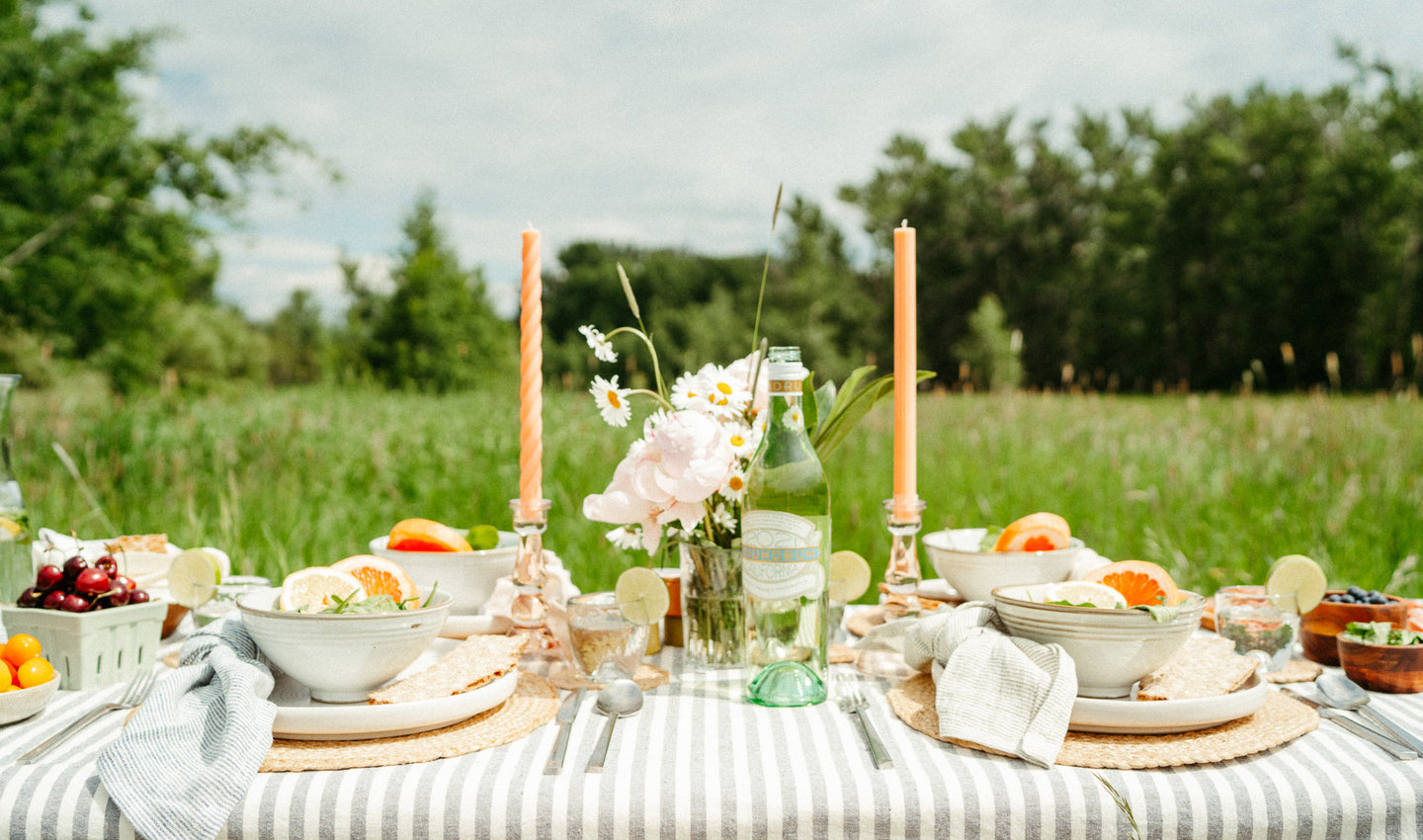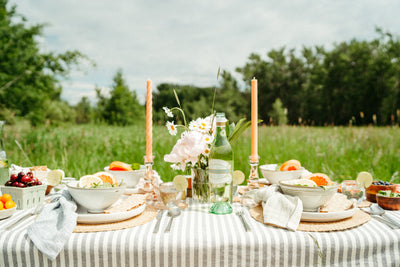 Be Creative with Serveware
A favorite of the team and our customers, these Berry Bowls combine function and style: easily rinse and serve up your favorite berries and fruits. Wood serveware adds a rustic and charming touch to your tablescapes, and makes for durable pieces you can use for years to come. This Bread Bowl features a distressed, solid finish and is a great dish for bread rolls, crackers and other sides. Made in Bentonville, Arkansas, Forever Green Art handcrafts their wood bowls directly from the tree source. Another handcrafted favorite, this Takara Teakwood Mortar and Pestle is great in the kitchen but can also be used to serve dips and other sides.
A beautiful object that serves as decor as much as function, this piece is crafted by artisans in central Java from abandoned teak forest wood. This Canape Knife and Cutting Board set is the perfect canvas for charcuterie works of art. Acacia wood makes for a simply beautiful set, and all your guests will want one for their own.
No table is complete without accent decor, and we've been loving these Taper Candles. Available in a variety of lovely colors to match any tablescape, these candles feature a twisted design that adds a fun pop to your decor. Add a Glass Taper Holder to hold and display your candles with style. 
Glassware
Glassware is the most pure and stylish way to serve your favorite beverages. Shop our new pebbled glassware collection.
SHOP NOW
Wood Serveware
Our wood serveware is heirloom quality. Designed to build character with every use and gets better over time.
SHOP NOW
Charming Bowls
Think outside the box! Use your favorite kitchenware for serveware. Shop our unique variety of multi-use serving dishes.
SHOP NOW
Here's to all the beautiful summer evenings spent outdoors.
Styling and enjoying this al fresco experience was a wonderful start to the warmer weather here in Montana. Sharing the experience with our lovely team made it even sweeter. We hope you too can find inspiration to create your own Al Fresco gathering and enjoy good food and great times with your loved ones! 
Featured Al Fresco Collection
Written by Heyday team writer, Porter Margolis