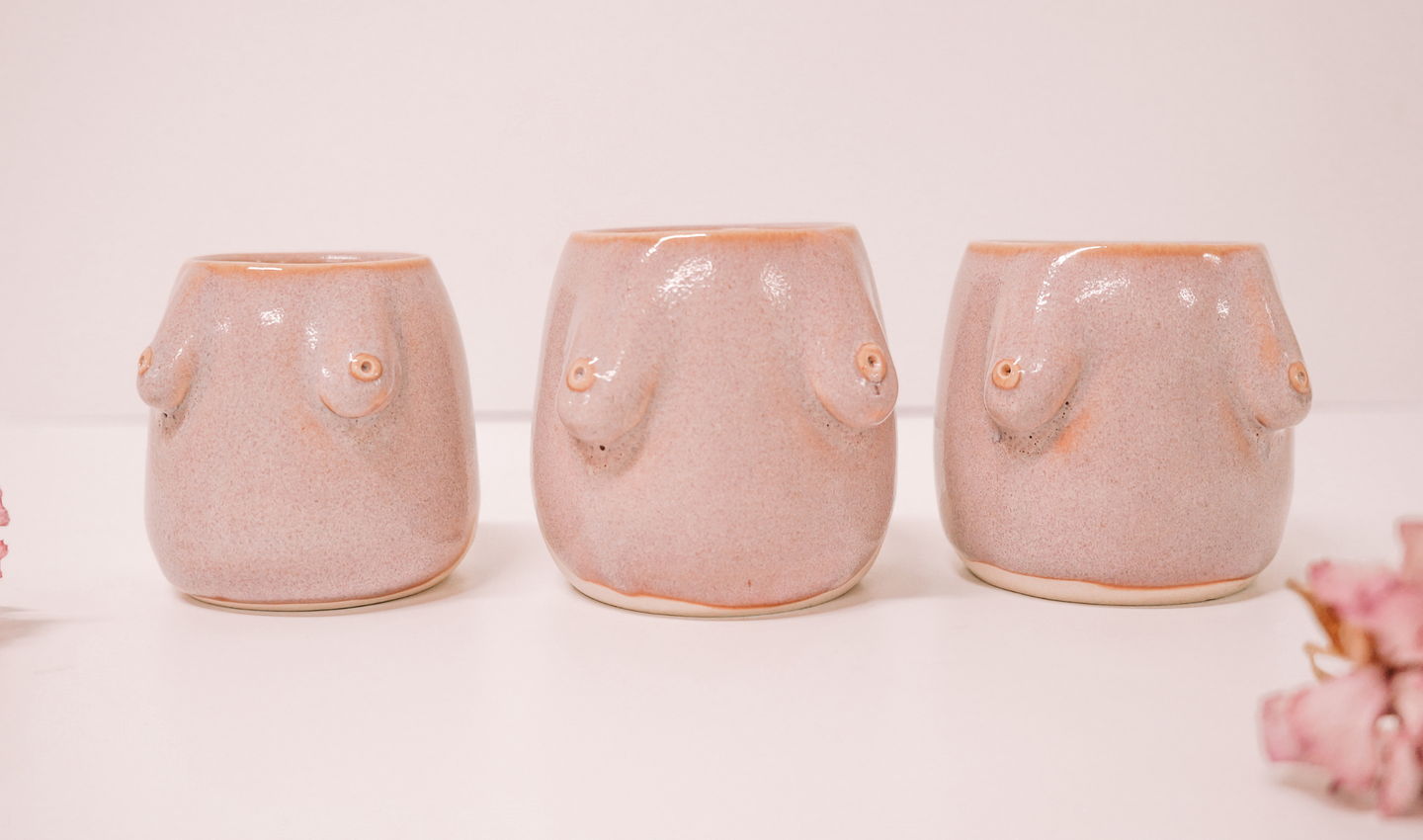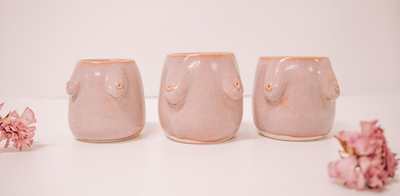 The Limited Edition Boob Candle
Breast Cancer Awareness Month
October is Breast Cancer Awareness Month, a campaign to raise awareness about a disease that affects 1 in 8 women. In fact, the average risk of a woman in the United States developing breast cancer sometime in her life is about 13%, according to the American Cancer Society.

As a woman-owned business who employs over 25 women, breast cancer awareness is an important cause that resonates with the Heyday team. This month our team pays a special tribute to all the women who have been directly affected by breast cancer and support them on their journey.

Additionally, for the month of October, Heyday is helping to raise awareness and encourage all women over the age of 40 to get regular mammogram screenings, for early detection.
Special Edition Boob Candle
This is the third year Heyday has collaborated with Lori Palmer of Uncommon Scents and Lauren Woods of Dualitas for a limited-edition, boob candle collection. Each of the one-of-kind, beautiful porcelain boob mugs are hand-thrown by ceramicist, Lauren Woods, with boobs every woman can identify with and then finished with a pink glaze. Lori has then poured her signature soy based candle into each vessel, with a beautiful Pink Lady fragrance.

Heyday is honored to sell this limed edition candle for the month of October, with 100% of profits donated to local non-profit Cancer Support Community Montana, a non-profit dedicated to providing emotional support, education and hope for people with cancer and their loved ones, free of charge.
Available in one size and a variety of styles that capture a woman's breast cancer journey. Choose from double breast, single mastectomy, and double mastectomy. All the candles are filled with lovely Pink Lady fragrance, with a scent that warrants a mimosa tree with notes of sparkling citrus, jasmine, vanilla and amber, with a woodsy finish.

The boob vessel can be repurposed into a coffee mug, dish, pencil holder, planter, or wherever your creativity takes you!

These special edition candles are available for a limited time.
YOU ARE INVITED!
Breast Cancer Awareness Event
Join us on Friday, September 29, 2023 from 4:00 - 6:00 p.m. for our annual Breast Cancer Awareness in-store event. Get first dibs on this year's limited edition boob candle and enjoy pink bubbly beverages and cookies.
The event will also feature Lauren Woods, with Dualitas, who provided a live pottery wheel demonstration and Lori Palmer who will be available to talk about her Uncommon Scents candles. Our friends from the Cancer Support Community will also be available for questions and information about their important work.
About the Makers
Meet Lauren Woods of Dualitas and Lori Palmer of Uncommon Scents. In honor of Breast Cancer Awareness Month, these two local makers have collaborated to create a unique vessel every woman can identify with. Every inch of these one-of-a-kind candles are made right here in downtown Bozeman.
Dualitas
Lauren Woods
We are excited to partner with the lovely Lauren Woods, the heart and soul behind Dualitas. Her spirit, fire and passion radiate through her work, not to mention the powerhouse she is! Lauren also owns and operates Inner Alchemy in downtown Bozeman, a clay studio + shop featuring local and USA made goods, ceramics, and art.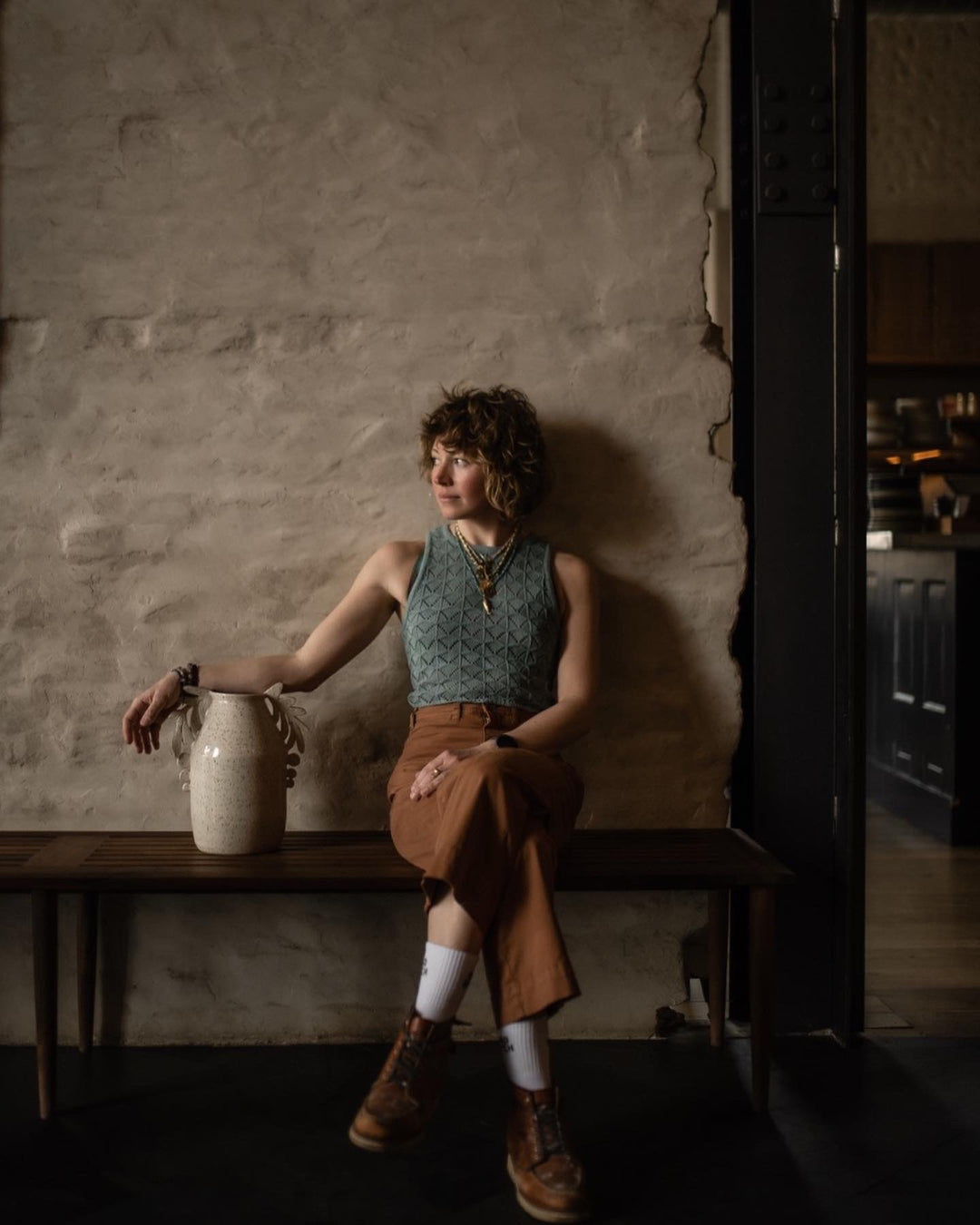 Lauren's love for clay started as a child. Growing up on the Mad River, in central Vermont, she would constantly find herself drawn to the river banks and clay beds near her house. Then, when she started high school, she had the chance to take a ceramics class and it was all uphill from there.

In 2006, she started her career in clay as an assistant for a studio in Vermont. Then, in 2015, she moved to Montana and worked as a volunteer, teaching adult and children's pottery classes, at The Emerson Center. Two years later, she opened her own 900 square foot private studio space, in downtown Bozeman. She quickly outgrew the small studio, so moved into a 3,200 square foot space, in 2020. This space allowed her to have both a studio and storefront.

Lauren started making boob mugs as a way to get her name out and support something that was close to my heart. Breast cancer has affected both her family, as well as her husband's. "I think the power that comes from seeing a female form out in the world, ceramic or not, is something we need more of," Lauren comments. "The more love we can share and the light we can shed on the Breast Cancer community the better. There is so much power in standing together and sharing our experiences with each other, good and painful. The most comfort I feel in times of pain, or hardship, or personal growth, knowing that there are people out there who have gone through it, are just starting to go through it or have lived with it, whatever that thing may be, sharing and connecting with those around me is the most healing. Breast cancer, and cancer in general, is a truly heart breaking, trying and testing, painful situation and no two cases are ever the same, so sharing these stories feels like a little support we can give," she continues.

Lauren makes these pots with boobs on them in a small effort to show her support, start a conversation around it, or to just give someone a little giggle in a time of pain. Working with Lori Palmer and the Team at Heyday has been the most wonderful, supportive and fun project. "I am so excited to bring these to our community near and far!" Lauren adds.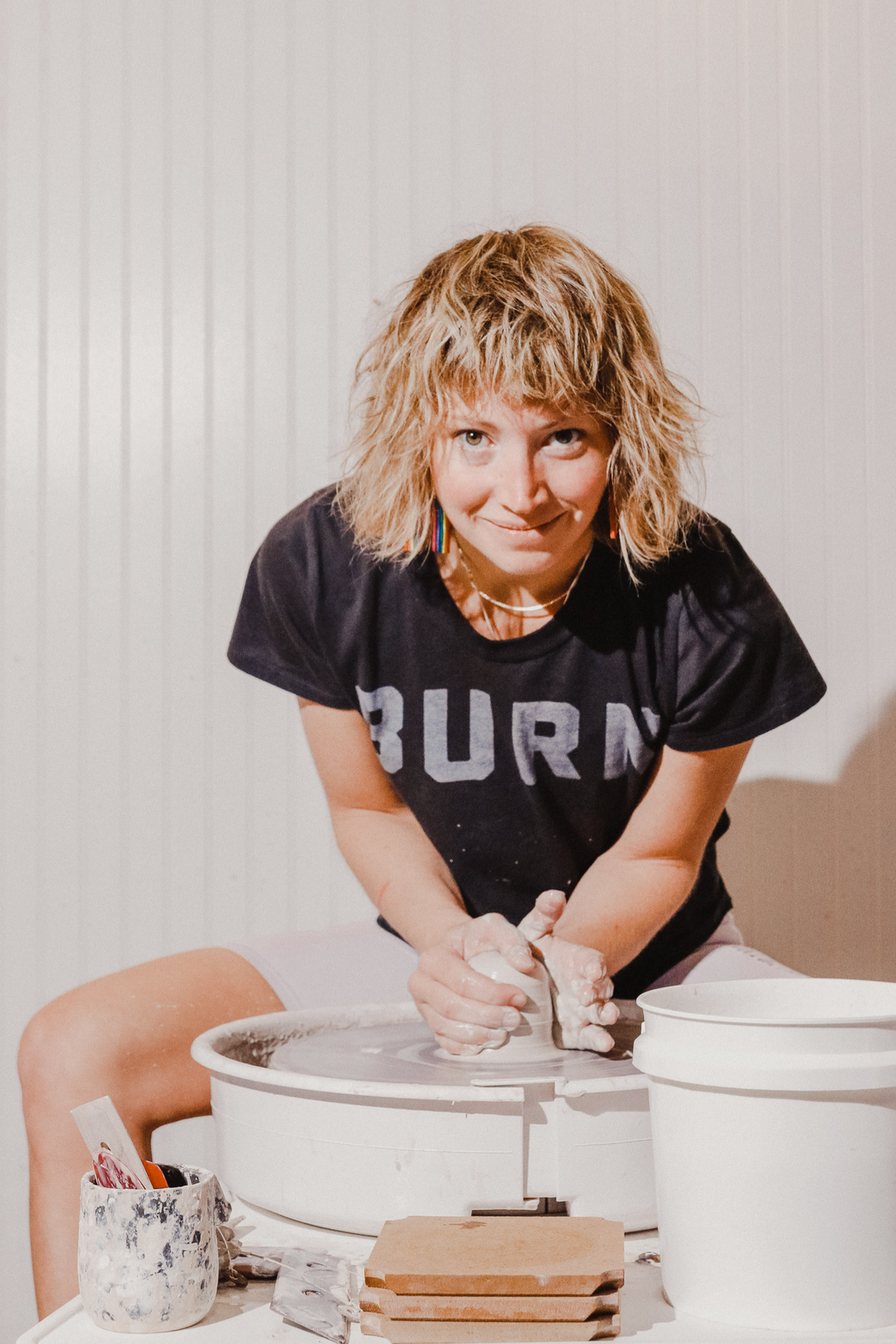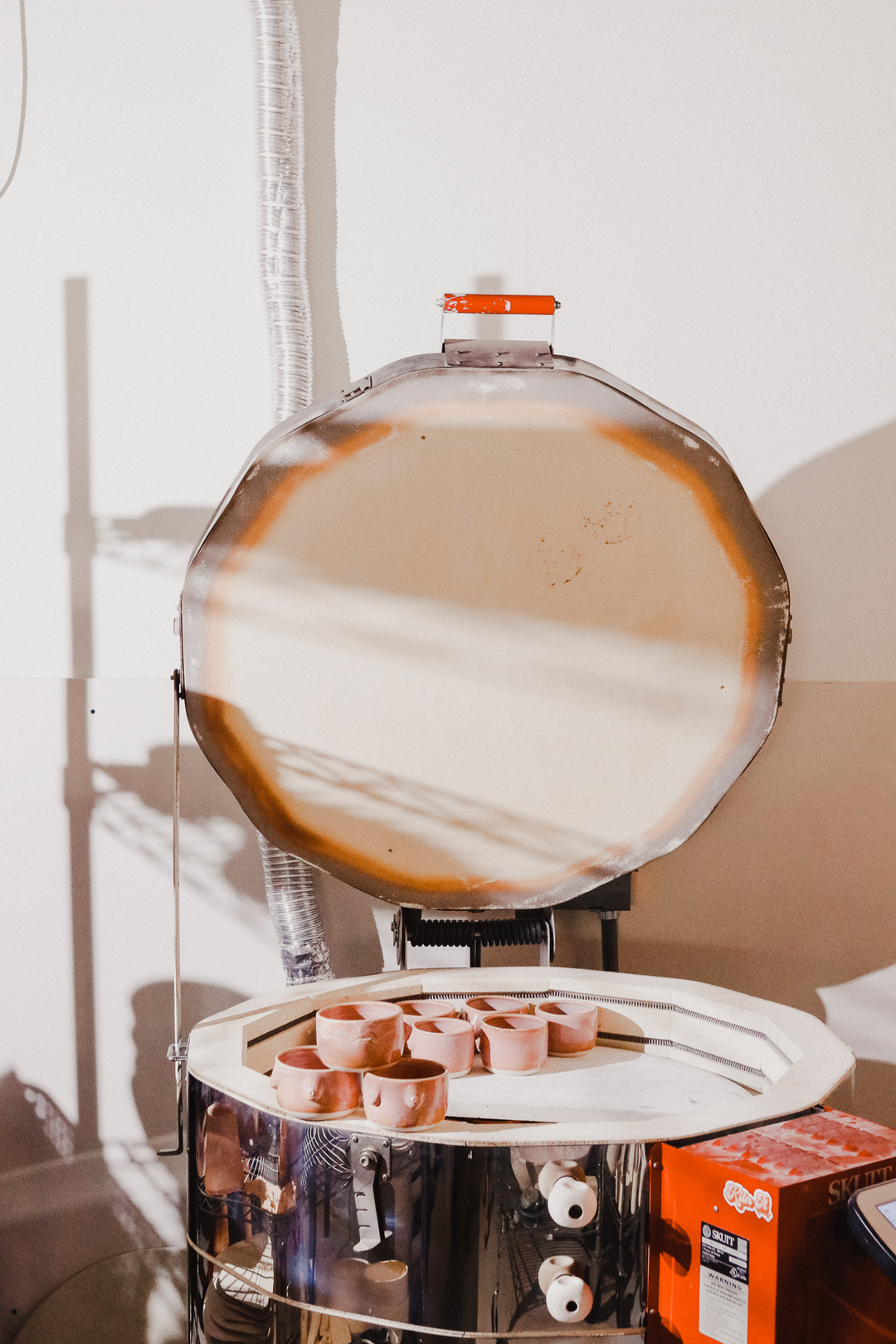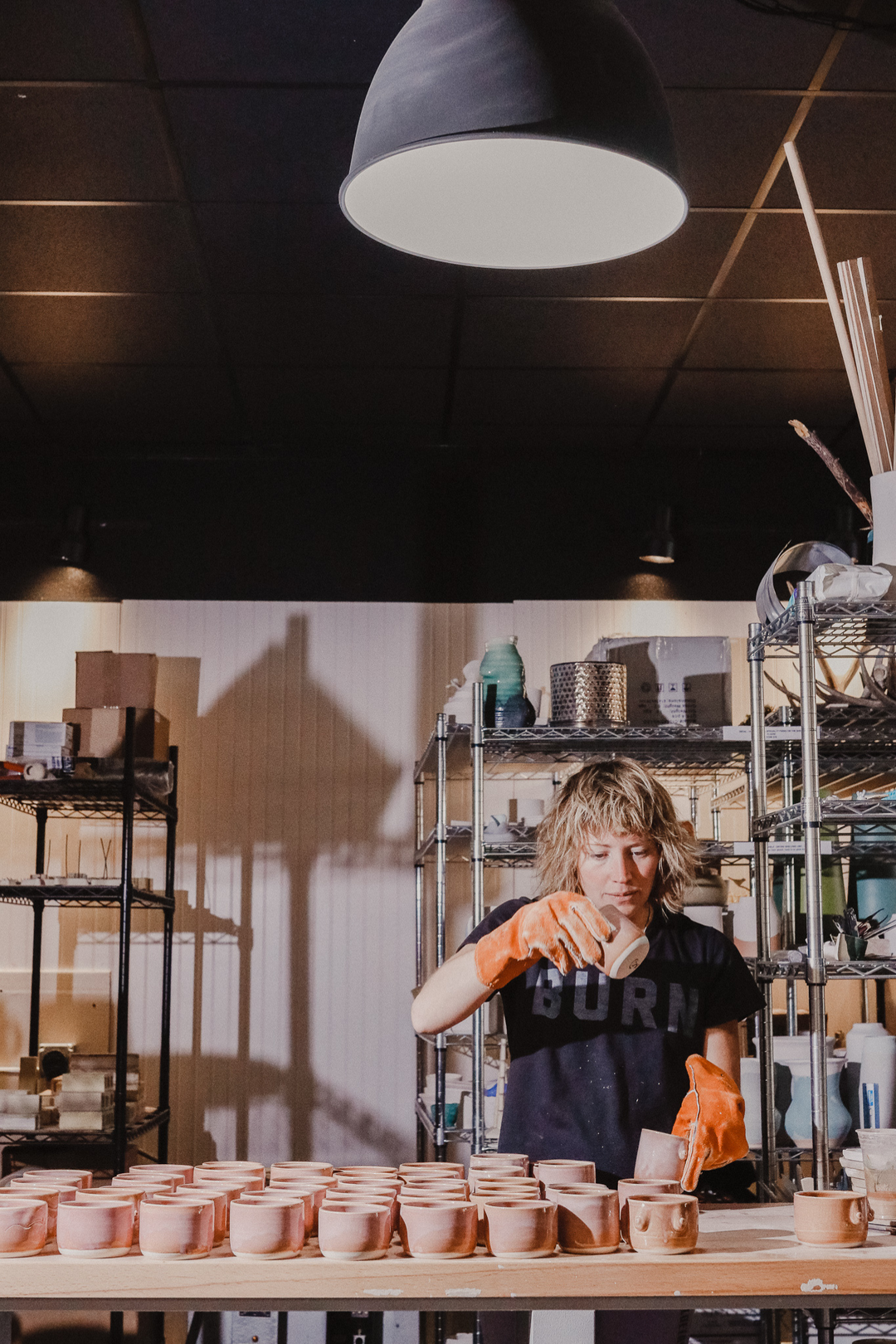 Uncommon Scents
Lori Palmer
Our dear friend, Lori Palmer of Uncommon Scents has been hand-pouring candles for nearly 30 years. She is both thoughtful and meticulous in her selection of scents, quality of her soy candle wax and unique vessels. Her top-selling candles are a Heyday customer favorite. Lori's passion for capturing memories in scent for people to hold onto and cherish.


In addition to her candles, Lori also works at Heyday as part of the sales team. She is truly the kindest, most thoughtful woman you will ever meet. We're so grateful everyday she joined our team almost three years ago and are fortunate to collaborate with her for this Breast Cancer Awareness event.

Lori started making candles in 1993, with the determination to create a better candle with cleaner wax, for the environment, and a quality fragrance, which was hard to find. At the time there was no internet, so candle making practices were difficult to find with people less willing to share their family recipes and methods of candle making. Over the first two years, she worked through trial and error to create her own version of a perfect high-crafted candles with quality fragrances.

Lori started selling her candles at various art and craft shows and later opened a small storefront with a candle studio, in Lawrence, Kansas. It quickly became a family business with the help of her children and husband. In turn, giving her kids the tools to managing and operating a small business.

In 2019, Lori and her husband moved to Bozeman where she continued to pour her signature candles. She has continued to grow her collection of candles, with a variety of fragrances and vessels made exclusively for Heyday.

"I can honestly say I have the best of both worlds in working as a sales associate and selling my candles at Heyday. When I pour a candle, it's not just pouring a candle, there's a lot of love in that little flicker. I hope you feel it when you light it as much as I feel it when I poured it for you," comments Lori. "I'm honored to be a small part of this Breast Cancer Awareness campaign. I believe we are all in this crazy world together-sisters supporting other sisters-and it is so exciting to see everyone's efforts truly make something that's nothing short of astonishing," she adds.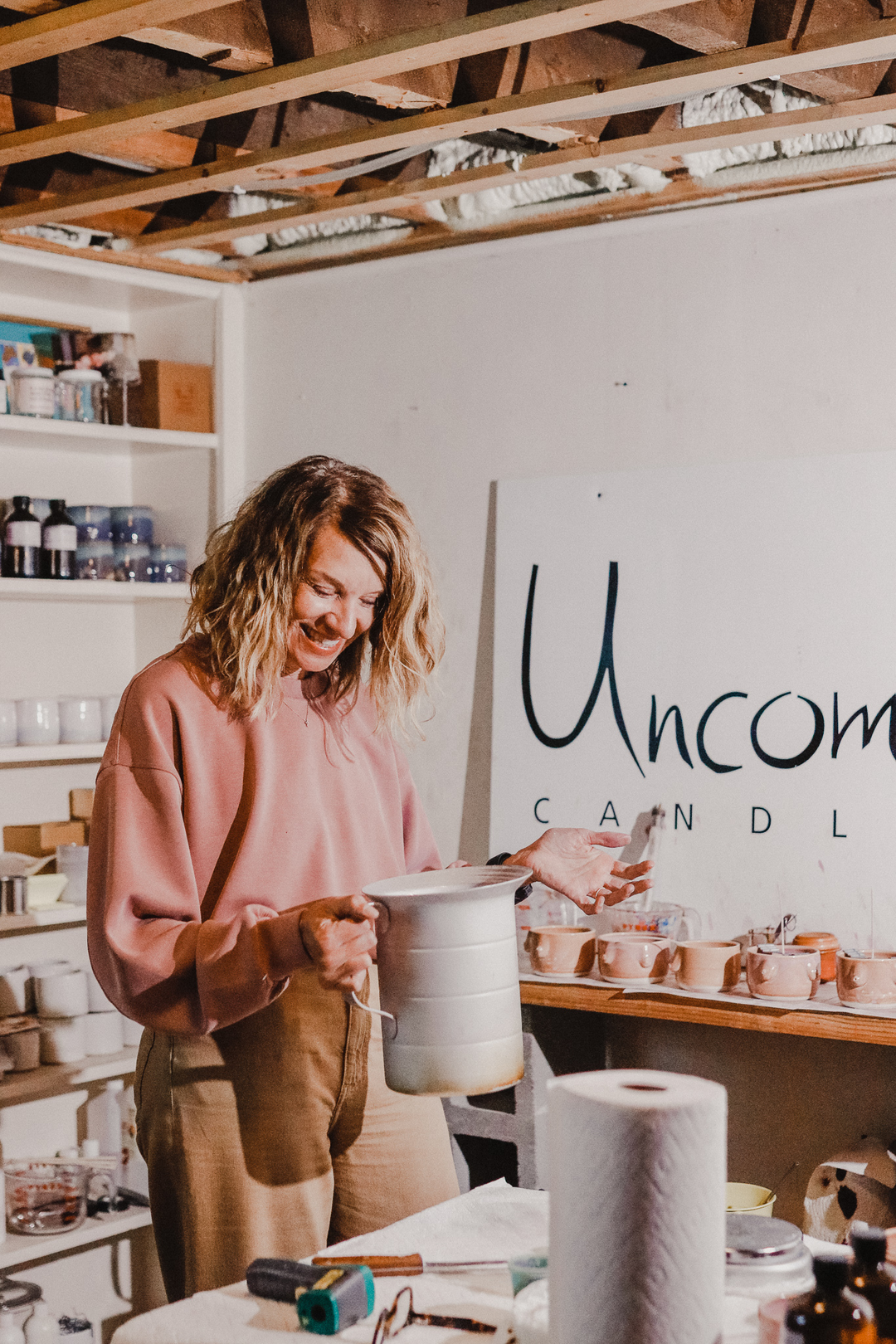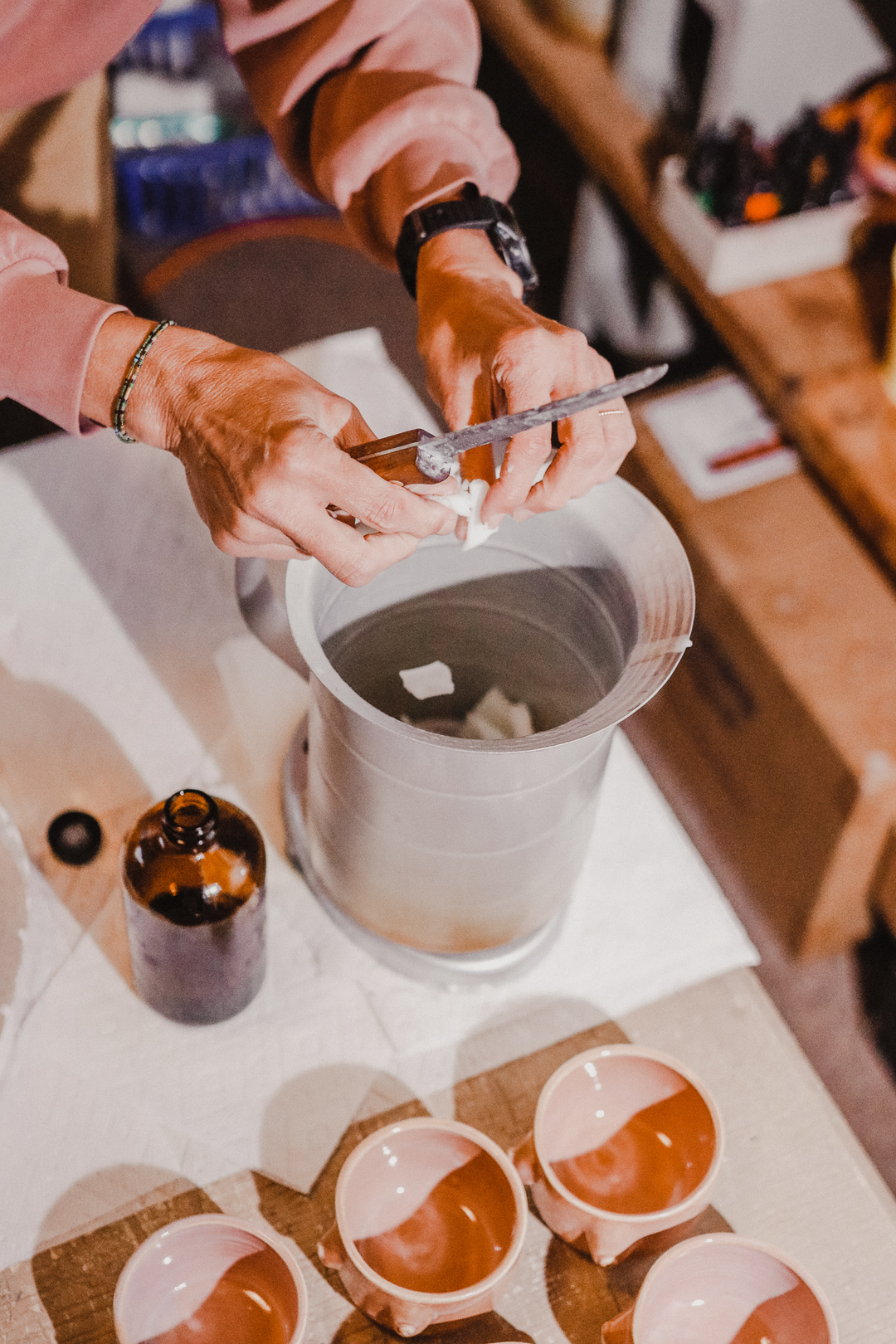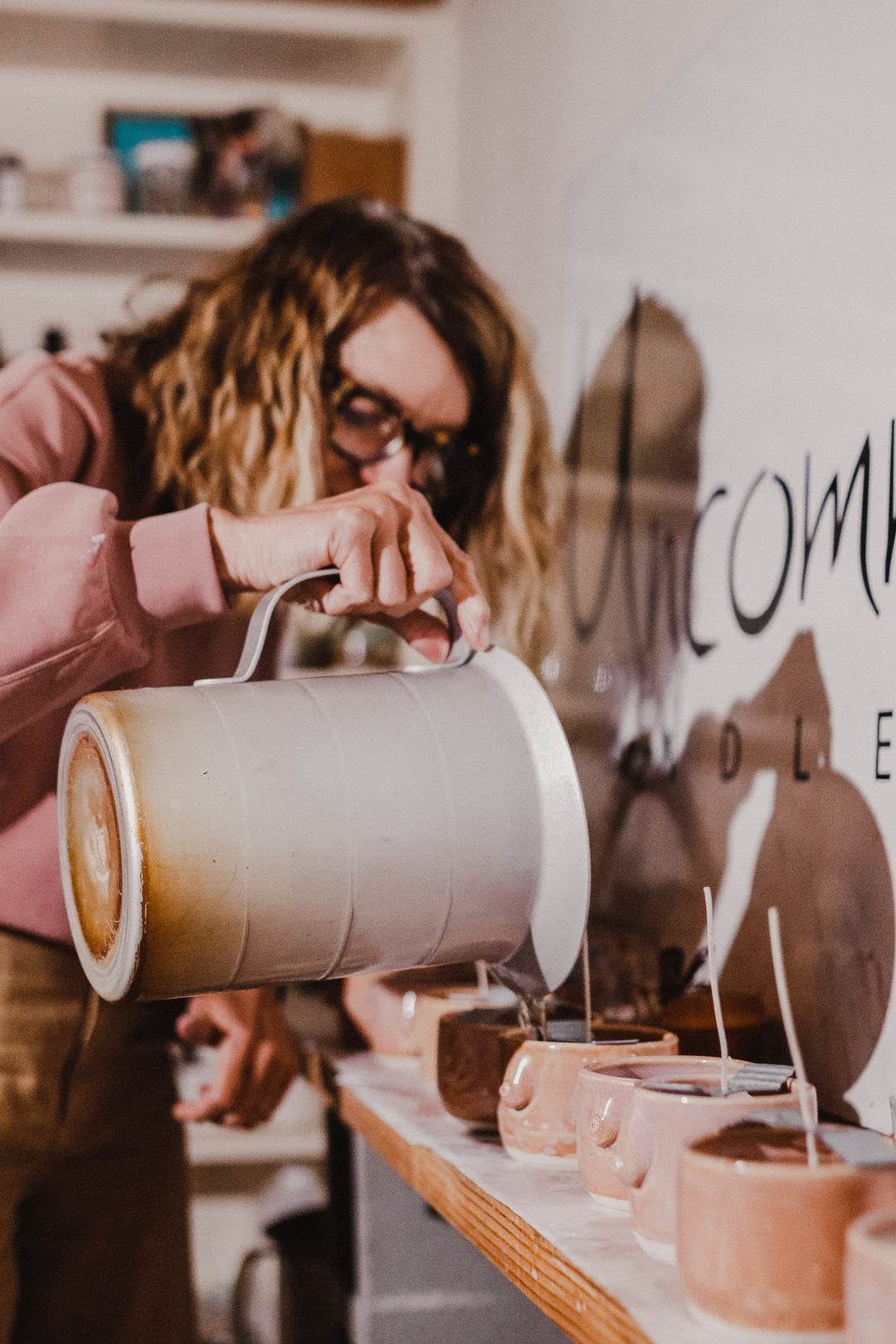 MAKE IT YOUR OWN
The Boob Vessel
Available in one size and a variety of styles that capture a woman's breast cancer journey. Choose from double breast, single mastectomy or double mastectomy. All the candles are filled with lovely Pink Lady fragrance, with a scent that warrants a mimosa tree with notes of sparkling citrus, jasmine, vanilla and amber, with a woodsy finish.

After the life of candle is complete, the boob vessel can be repurposed into a mug, pencil holder, planter, or wherever your creativity takes you!
How You Can Support Breast Cancer Awareness
Awareness for breast cancer starts by helping women understand the importance of early detection with regular mammogram screenings. There are many other ways to support Breast Cancer Awareness. Here are a some ways you can help:

1. Volunteer and/or donate to the various organizations committed to breast cancer research, raising awareness, and supporting women and their families through treatment, recovery and end of life. Click here for a list of local and national organizations.

2. Wear pink in October to show your support for awareness.

3. Purchase from business who give back and support Breast Cancer Awareness.

4. Help a cancer patient with meal delivery, running errands and helping the family.

5. Educate others about the importance of early screenings and schedule a mammogram. Learn more and find an affordable screening near you.