5 Best Ways to Share the Love with your Girl Gang
Galentine's Day: Coined by Leslie Knope in Parks & Recreation, Galentine's Day is an opportunity to celebrate sisterhood - women celebrating women.
As a completely women-owned and run business, we at Heyday are no strangers to celebrating the ladies in our lives. Nothing feels better than getting all your best gal pals together for an evening of laughter, food, and fun - Galentine's Day is no exception. Treat your favorite ladies to a night of love, sparkle, and festivities that'll be sure to spark a new tradition in your girl gang.
1. SHARE SOME SPARKLE WITH A JEWELRY EXCHANGE
We love any reason to share gifts with those we love. Giving the gift of jewelry is not a new take on Valentine's, but shake it up by getting all your girls together and sharing your favorite pieces with each other. You can pick specific recipients ahead of time (think Secret Santa type of organization) or just have everyone bring their choice of jewelry and have everyone pick their fave! There's an innate sense of joy found when we adorn ourselves with our favorite jewelry - why not share that joy with our gals? We've got you covered in the jewelry department - overwhelmed with options? We've go you covered! Here's a few of our top selling lines that your gal pal will love:

Let's start local: Commonform is designed and handmade here in Bozeman, Montana. Inspired by the belief that good design is for everyone, Commonform is dedicated to making effortless, high-quality, and modern pieces. Their pieces feature a stunning combination of brass, silver, and stones, leaving you with a special piece that will effortlessly boost any outfit. Customers have been loving the Quill Hoops, as seen on Kelly Reilly as Beth Dutton in the show Yellowstone - with .22 bullet casings and porcupine quills, these are the ultimate Montana staple. Make a statement with the Absaroka Cuff or keep it understated with the Slim Cigar Band Hoops. The Commonform collection is jewelry designed to be lived in - what piece will spark your next adventure?
Inspired by her surroundings growing up in Jackson Hole, Padgett Hoke started her jewelry designing career crafting pieces for herself and friends in college. Her styles are constantly evolving to fit her latest inspirations, and her creativity and craftsmanship is captured in her delicate and sophisticated pieces. The Antler Necklace is an all time favorite for our customers, and the Crystal Hoops are a unique take on the classic huggie hoop - they shine with the most delicate crystals stones inlaid along the earrings. An intricate combination of the shapes inspired by the natural world and just the right amount of sparkle, Padgett Hoke jewelry is the perfect choice for the feminine outdoorswoman.

Continuing with another one of our favorite jewelry lines, Mind's Eye pride themselves on loving, dreaming, and making. Mind's Eye is composed of a team of entirely women, from photographers to the jewelry production line. Always lead and nickel free, Mind's Eye jewelry takes even the simplest shapes and geometry and transforms them into objects of extraordinary beauty. Earrings that dangle just right - whose brass catches the light in magical ways - and rings that lay intricate shapes and lines turning your fingers into works of art (did we mention they're wrap rings so they'll adjust as your fingers change size throughout the day?). For the ladies hoping to add some flair to their jewelry collection, Mind's Eye will have her perfect match. 
2. PAMPER YOURSELVES WITH AN AT-HOME SPA ROUTINE
What's a girl's night without a little TLC? Channel a spa retreat by treating yourselves to some body and skincare that will leave you feeling the love. Easiest way to bring the spa home? Masks! A quick way to personalize your self care routine, sheet masks are a targeted skincare experience in a convenient package. Is your skin feeling tired and needs a boost? Opt for a mask that enhances your natural glow and restores your skin's moisture. We love the Just Let It Glow sheet mask- with pear fruit and seaberry extract, this mask provides essential antioxidants to replenish lackluster skin. Don't limit yourself to full face sheet masks - treat your eyes and lips right too! The sensitive skin under our eyes deserve focused treatment and protection from life's everyday stressors. Eye gels can be kept in the fridge for an extra dose of refreshment - pop on Rejuvenating Eye Gels and let the powerhouse combination of ingredients, including hydrolyzed collagen, go to work against your fine lines and puffy eyes. We know that those unwanted signs of aging aren't limited to our eyes - our lips are worthy of dedicated care as well! A Hydrating Lip Gel helps smooth, soften, and diminish the appearance of vertical lines by sending a team of anti-aging ingredients straight to your lips - faster than topical serums.  
3. CRAFT A SIGNATURE COCKTAIL FOR YOUR EVENING
Cheers! Let's have a toast to the ladies who light up our lives. Check out this Galentine's spin on the classic cocktail, the French 75.

Galentine's Pomegranate French 75
2 oz gin
1.5 oz lemon juice
1 oz pomegranate simple syrup
3 ounces champagne or sparkling wine

To make pomegranate simple syrup, simmer 1 cup pomegranate juice with ½ cup of sugar. Bring to a boil and reduce to a simmer, stirring continuously until sugar is dissolved.In a cocktail shaker filled with ice, combine gin, pomegranate simple syrup, and lemon juice. Shake vigorously until chilled, 10-20 seconds.

Strain into a champagne flute or drinkware of choice and top with champagne or sparkling wine.

Elevate your cocktails with festive glassware and fresh garnishes - it's the little details that make every sip more fun. It's easy to throw a galentine's flair on your favorite cocktails with a berry garnish or fruity syrup, taking your refreshment to another level. Need some instruction on how to bring out your best inner bartender? Perfect your drink of choice with recipes from master bartenders in Mixed & Shaken Essential Cocktails, a collection of classic cocktails. 
4. A GOOD OLD-FASHIONED MOVIE NIGHT
There's no better way to spend a night in with your besties than bundled up watching your favorite flicks. Pull out all the stops this Galentine's - we're talking pillows, blankets, and everything cozy. Get your girls the coziest, softest socks so you can all match and stay warm while laughing (and maybe tearing up) at your fave rom-com. Invite everyone to don their best pajamas and get comfy! Post your movie night set up and tag us, and be sure to let us know your favorite films from the evening.

What's a movie night without snacks? No need to pick between salty and sweet - have them all! Keep it on theme with love-themed sweets, like sweet gummy lips, some valentine's themed popcorn, and chocolate - lots of chocolate. Arrange your treats on a platter to make a Valentine's Dessert Board (we're looking at you charcuterie board aficionados!). For inspiration, check out this gorgeous dessert board from Ain't Too Proud to Meg, by Meg Quinn.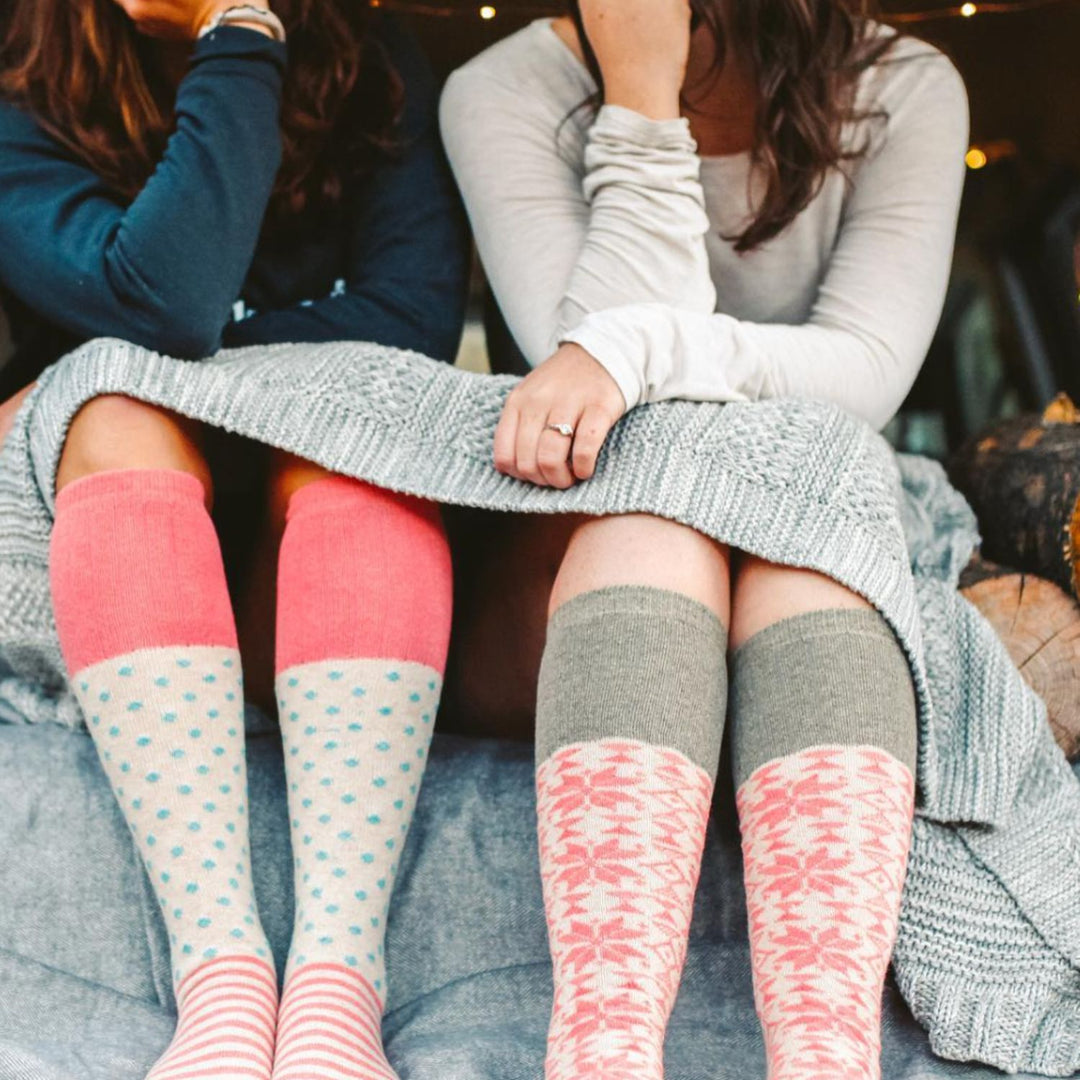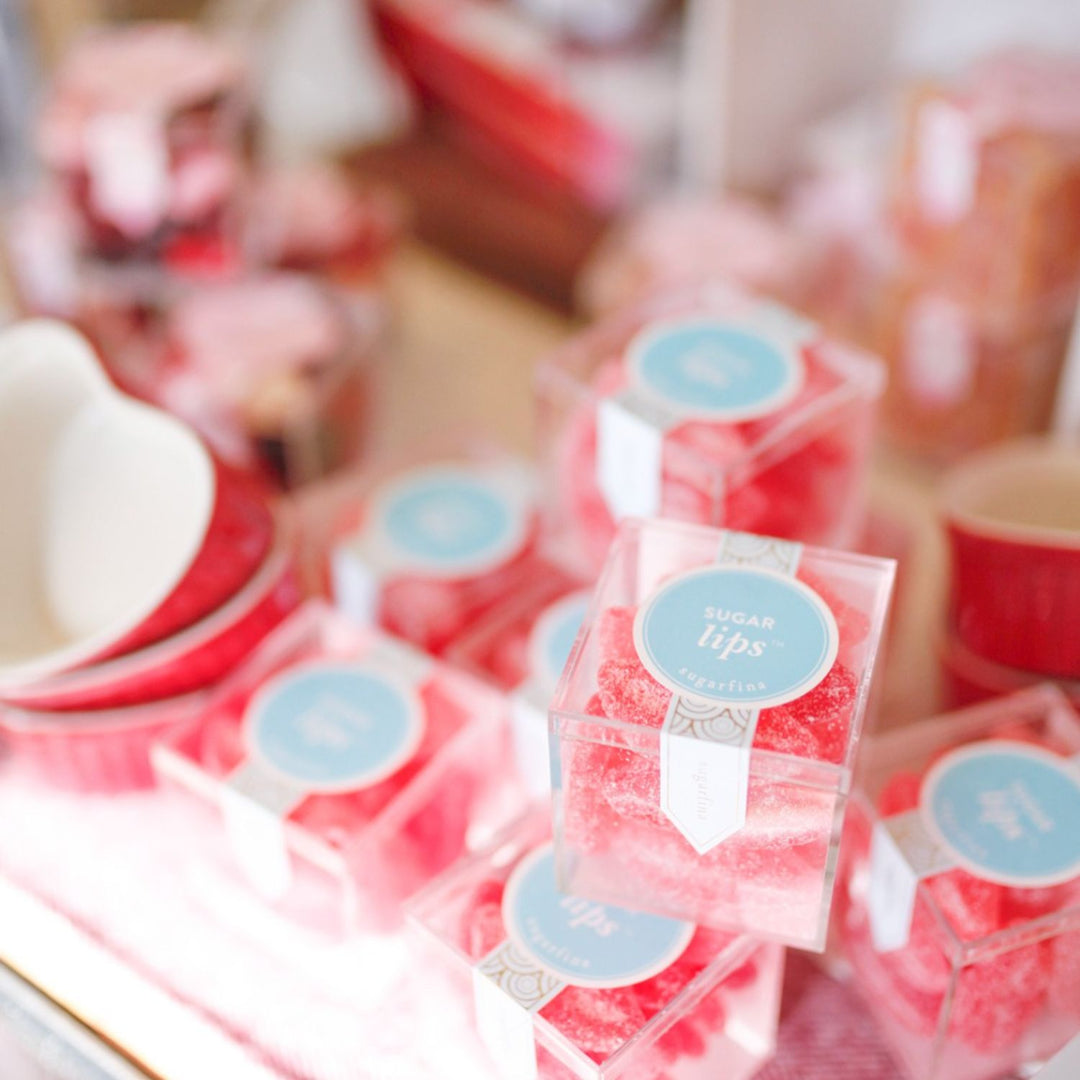 5. CREATE GALENTINE'S GOODY BAGS
The fun of Galentine's Day doesn't have to end just because your night is nearing close. Send your girls home with a little packet of love - we would start with some self-care favorites from the evening and any leftover treats. Start off with a pouch that is oh-so cute and oh-so functional. The Aloha pouch is water-resistant and easy to clean: great for makeup, afternoons on the river, and perfect to keep all of life's little moments organized. Store your yummy treats to-go in some darling bee's wrap; we love having reusable food packaging in our kitchens - why not share this easy conscious kitchen trick with your BFFs?

Make your goody bags extra special with a personalized touch - pick the contents according to the recipient. Which one of your gals loves hydrating skin care? Pick products geared towards boosting moisture. Is she a big traveler? An assortment of travel sized goodies make for a sweet surprise. Finalize that personal touch with a handwritten love note - our favorite way to share bite-sized moments of tenderness is on a little note from E. Frances.The perfect size to slip in a pouch (and how cute is that heart?), you'll be reaching for these long after Valentine's.
Written by Heyday team writer, Porter Margolis